»

Recipes

»

Asian

»

Cheesy Vegetable Crepes
Cheesy Vegetable Crepes Recipe
The classic thin pancake is made extra-easy with Bisquick® mix. The veggie filling and cheese make these crepes perfect fare for breakfast, lunch or dinner.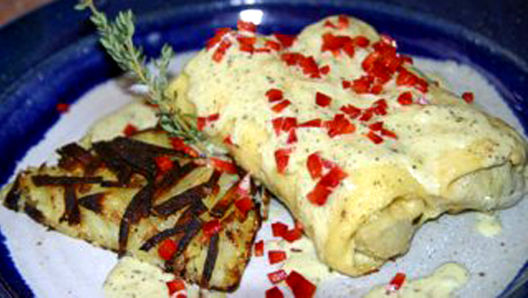 Summary
Preparation Time
35 Min
Cooking Time
50 Min
Ready In
1 Hr 25 Min
Difficulty Level
Medium
Health Index
Average
Servings
6
Ingredients
Vegetable filling/Null

1 Cup (16 tbs)

Vegetable oil/Null

2 Tablespoon

Zucchini/Null

2 Medium

, coarsely chopped (3 to 4 cups)

Chopped green bell pepper/Null

1⁄2 Cup (8 tbs)

Green onions/Null

4 Medium

, sliced

Instant minced garlic/Null

1⁄4 Teaspoon

Tomatoes/Null

2 Medium

, chopped (1 1/2 cups)

Salt/Null

1⁄2 Teaspoon

Original mix/Null

1 Cup (16 tbs)

Milk/Null

3⁄4 Cup (12 tbs)

Eggs/Null

2 Small

Parmesan cheese/Null

1 Cup (16 tbs)

, grated
Nutrition Facts
Serving size
Calories 351 Calories from Fat 143
% Daily Value*
Total Fat 16 g24.8%
Saturated Fat 5.3 g26.7%
Trans Fat 1.5 g
Cholesterol 67.7 mg22.6%
Sodium 880 mg36.7%
Total Carbohydrates 38 g12.6%
Dietary Fiber 3.5 g14%
Sugars 7 g
Protein 14 g27.3%
Vitamin A 30.7% Vitamin C 48.7%
Calcium 30.4% Iron 10.4%
*Based on a 2000 Calorie diet
Directions
1. In 10-inch skillet, heat oil over medium heat. Cover and cook zucchini, bell pepper, onions and garlic in oil 3 to 5 minutes, stirring occasionally, until vegetables are crisp-tender; remove from heat. Stir in tomatoes. Sprinkle with salt. Cover and let stand 2 to 3 minutes.
2. Lightly grease 6- or 7-inch skillet; heat over medium-high heat. Stir Bisquick mix, milk and eggs in medium bowl with wire whisk or fork until blended.
3. Heat oven to 350°F. For each crepe, pour 2 tablespoons batter into hot skillet; rotate skillet until batter covers bottom. Cook until golden brown. Gently loosen edge with metal spatula; turn and cook other side until golden brown. Stack crepes, placing waxed paper between, as you remove them from skillet. Keep crepes covered to prevent them from drying out.
4. Spoon filling onto crepes. Sprinkle half of cheese over filling on crepes; roll up crepes. Place seam sides down in ungreased 11x7-inch (2-quart) glass baking dish. Sprinkle with remaining cheese. Bake uncovered 10 to 12 minutes or until hot.
High Altitude (3500-6500 ft): Heat oven to 375°F.