»

Recipes

»

Cheesy Enchiladas
Cheesy Enchiladas Recipe
You can make up these enchiladas ahead of time and take a siesta before dinner! Cover and refrigerate the assembled enchiladas up to 24 hours.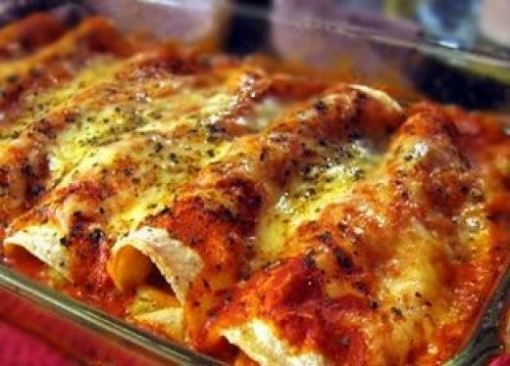 Ingredients
Small curd creamed cottage cheese

1⁄2 Cup (8 tbs)

Shredded monterey jack cheese/3 ounces cheddar cheese

3⁄4 Cup (12 tbs)

Tomato

1 Small

, chopped (1/2 cup)

Green onion

2 Medium

, sliced (2 tablespoons)

Chili powder

1 Teaspoon

Salt

1⁄4 Teaspoon

Garlic clove

1 Small

, finely chopped

Corn tortillas

4

(6 inches in diameter)

Taco sauce

1⁄4 Cup (4 tbs)

(jarred Old El Paso®)
Nutrition Facts
Serving size
Calories 204 Calories from Fat 74
% Daily Value*
Total Fat 8 g12.7%
Saturated Fat 5.4 g27.1%
Trans Fat 0 g
Cholesterol 25.3 mg
Sodium 544.2 mg22.7%
Total Carbohydrates 23 g7.6%
Dietary Fiber 2.2 g8.8%
Sugars 1.9 g
Protein 10 g19.2%
Vitamin A 22.6% Vitamin C 13.3%
Calcium 19.4% Iron 7.8%
*Based on a 2000 Calorie diet
Directions
1. Heat oven to 375ºF. Spray two 14-ounce shallow oval casseroles or one rectangular baking dish, 11x7x1 1/2 inches, with cooking spray.
2. Mix cottage cheese, 1/2 cup of the Monterey Jack cheese, the tomato, onions, chili powder, salt and garlic. Spread about 1/3 cup of the cheese mixture on each tortilla. Roll up tortillas; place seam side down in casseroles. Spoon taco sauce over tortillas. Sprinkle with remaining 1/4 cup Monterey Jack cheese.
3. Bake uncovered 15 to 20 minutes or until hot and cheese is melted.