»

Recipes

»

Noodle

»

Cheesed Noodle Ring
Cheesed Noodle Ring Recipe
Cheesed noodle ring is a very interesting recipe. With this recipe you can enjoy noodles ring with the cheese and Worcestershire sauce and also with dishes like Brussels sprouts. Try it and you will surely enjoy it.
Noodle Ring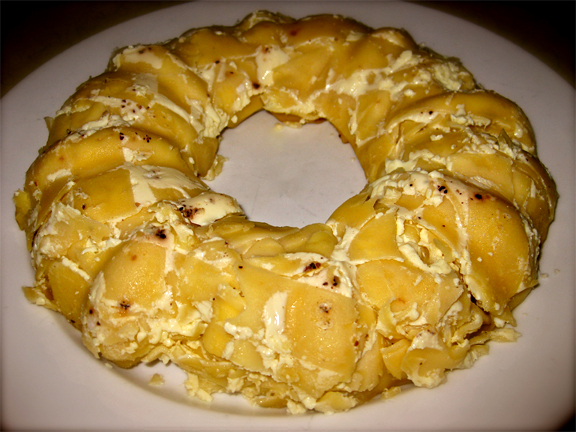 Ingredients
Noodles

1 Pound

Salt

1 Teaspoon

Butter

3 Tablespoon

Cheese

2 Cup (32 tbs)

, shredded

Worcestershire sauce

1 1⁄2 Teaspoon
Nutrition Facts
Serving size
Calories 540 Calories from Fat 222
% Daily Value*
Total Fat 25 g39.2%
Saturated Fat 14.9 g74.7%
Trans Fat 0 g
Cholesterol 130.4 mg
Sodium 652.1 mg27.2%
Total Carbohydrates 55 g18.2%
Dietary Fiber 2.5 g10%
Sugars 1.8 g
Protein 23 g45.6%
Vitamin A 14.4% Vitamin C 0.27%
Calcium 37.8% Iron 10.2%
*Based on a 2000 Calorie diet
Directions
MAKING
1)In a saucepan, cook noodles in boiling salted water until tender. Drain.
2)Add butter to noodles and toss until butter melts.
3)Take a greased ring mold and put the noodles in it.
4)Place mold in pan of hot water.
5)Bake at 350 degrees for 25 minutes.
6)Take a serving plate and put unmold noodles.
7)In a pan melt cheese and add Worcestershire sauce.
8)Pour the mixture on noodle ring.

SERVING
9)Serve the cheesed noodle ring with Sunday Brussels sprouts.