»

Recipes

»

Cheesecake Filled Chocolate Covered Strawberry
Cheesecake Filled Chocolate Covered Strawberry Recipe
Is there anything better than a Chocolate Covered Strawberry? A Cheesecake Filled Chocolate Covered Strawberry. The freshness of the strawberry, the sweetness of the chocolate and the creaminess of the cheesecake filling is sure to be a hit this Valentines Day with your sweetheart and all the days to come.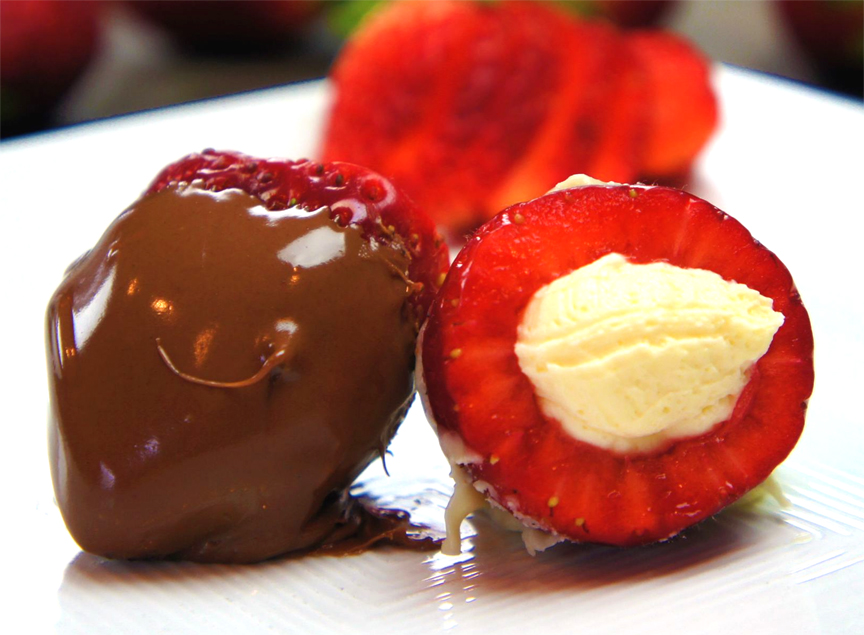 Summary
Preparation Time
15 Min
Difficulty Level
Very Easy
Health Index
Average
Servings
24
Ingredients
Strawberries

24

Cheesecake filling

6 Ounce

(Philadelphia)

Milk chocolate

5 Ounce

White chocolate

5 Ounce
Nutrition Facts
Serving size
Calories 88 Calories from Fat 46
% Daily Value*
Total Fat 5 g7.9%
Saturated Fat 3.1 g15.7%
Trans Fat 0.1 g
Cholesterol 7.8 mg2.6%
Sodium 31.9 mg1.3%
Total Carbohydrates 10 g3.2%
Dietary Fiber 0.52 g2.1%
Sugars 8.5 g
Protein 1 g2.6%
Vitamin A 1.8% Vitamin C 12%
Calcium 3.2% Iron 1.4%
*Based on a 2000 Calorie diet
Directions
Rinse and dry the strawberries, then cut the tops off and hollow the strawberry out with a pairing knife.

Add the cheesecake filling into a resealable bag or pastry bag and pipe the filling into the strawberries.

Melt the milk chocolate in one bowl and the white chocolate in another. (Any chocolate can be used.) Best way to melt the chocolate is place it in the microwave for 30 seconds, take it out and stir and place back in for another 30 seconds. Repeat until chocolate is almost melted, about 1 ½ to 2 minutes.

Dip the strawberries into the chocolate ¾ of the way up the strawberry. Place strawberry on parchment paper and wait for the chocolate to harden. Serve and Enjoy!
They are very good..
Posted on:
15 May 2012 - 11:04pm