»

Recipes
Cheesecake Recipe
Rich Cheesecake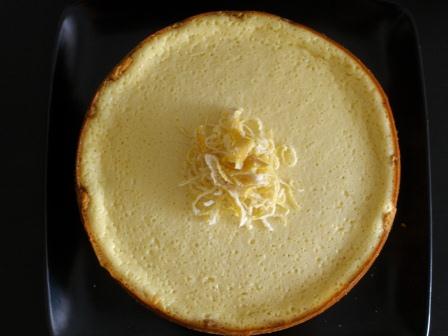 Ingredients
Cream cheese

1 Pound

Gelatin

2 Tablespoon

(2 Envelopes)

Water

1⁄2 Cup (8 tbs)

Egg yolks

1

, beaten

Milk

1 Cup (16 tbs)

Graham wafers

30

Fine sugar

1 Cup (16 tbs)

Whipping cream

1⁄2 Pint

Egg whites

1

Vanilla extract

1 Teaspoon
Nutrition Facts
Serving size: Complete recipe
Calories 5479 Calories from Fat 2613
% Daily Value*
Total Fat 294 g452.3%
Saturated Fat 163 g815.2%
Trans Fat 0 g
Cholesterol 1049.4 mg
Sodium 3754.4 mg156.4%
Total Carbohydrates 605 g201.8%
Dietary Fiber 15 g60%
Sugars 330.9 g
Protein 95 g190.8%
Vitamin A 123.7% Vitamin C
Calcium 87.7% Iron 14.4%
*Based on a 2000 Calorie diet
Directions
MAKING
1) In a small bowl of cold water, add in the gelatin and mix well till no lumps remain.
2) On a double boiler, cook milk, sugar and beaten egg yolks. Stir continously until the mixture thickens. Add in the gelatin liquid and stir well. Take the vessel of the flame and allow to cool down to room temperature.
3) In a bowl crush the graham wafers, add in 3 tablespoons brown sugar, 6 tablespoons of melted butter and mix well.
4) In a 9 X 13" serving dish, pack 2/3 of the wafer mixture tightly to form the base. Spread the milk and sugar mixture and top it with the remaining wafer mixture.
5) Refrigerate for at least 1 hour.

SERVING
6) Serve chilled.