»

Recipes

»

Mexican

»

Tortilla

»

Cheese Tortilla Roll-Ups
Cheese Tortilla Roll-Ups Recipe
You have ever-so-easy Southwest flavor going when you make a creamy cheese and corn filling that you wrap up with ham slices and flour tortillas.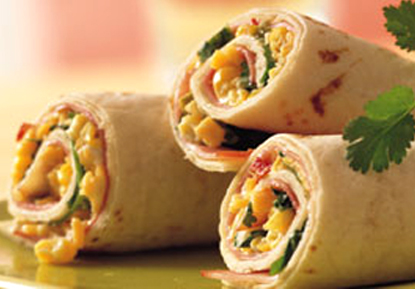 Ingredients
Shredded cheddar cheese

6 Ounce

Mayonnaise/Cooked salad dressing

1⁄4 Cup (4 tbs)

Sour cream

1⁄4 Cup (4 tbs)

Vaccum packed whole kernel corn/Mexicorn whole kernel corn with red and green peppers

11 Ounce

Old flour tortillas

10

(6 inch in diameter)

Cooked ham slice

20 Ounce

Cilantro sprig

1 Tablespoon
Nutrition Facts
Serving size
Calories 728 Calories from Fat 355
% Daily Value*
Total Fat 40 g61.2%
Saturated Fat 13.7 g68.4%
Trans Fat 0 g
Cholesterol 62.9 mg
Sodium 1189.7 mg49.6%
Total Carbohydrates 50 g16.8%
Dietary Fiber 3.9 g15.5%
Sugars 7.1 g
Protein 41 g81%
Vitamin A 18.9% Vitamin C 3.7%
Calcium 32.2% Iron 13.1%
*Based on a 2000 Calorie diet
Directions
1. Mix cheese, mayonnaise, sour cream and corn.
2. Top each tortilla with 1 slice ham. Spread 2 tablespoons corn mixture over ham. Top with cilantro. Roll up.