»

Recipes

»

Burger

»

Cheese-Sauced Burgers
Cheese-Sauced Burgers Recipe
Cheese sauced burgers are cooked beef burgers broiled and served with cheese sauce over french bread or english muffins. The cheese sauce is specially prepared for this burger and made zippy with a little mustard for taste.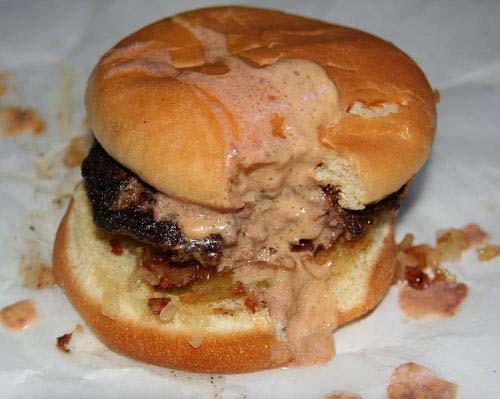 Ingredients
Ground beef

1/2 pound

Butter/Margarine

1 Tablespoon

All purpose flour

1 Tablespoon

Dry mustard

1/4 Teaspoon

Milk

1/2 Cup (16 tbs)

Shredded Swiss cheese

1/3 Cup (16 tbs)

, Processed

Dry sherry

1 Tablespoon

2 slices bread hamburger bun

French bread or English muffin, toasted
Directions
Shape meat in 2 patties.
Broil 3 inches from heat about 4 minutes on first side.
Sprinkle with salt and pepper.
Turn patties and broil 4 minutes more or to desired doneness.
Season second side with salt and pepper.
Meanwhile, make cheese sauce: Melt butter; blend in flour and mustard.
Add milk all at once.
Cook and stir till sauce thickens and bubbles.
Add cheese; stir till melted.
Add wine; cook and stir 1 minute.
Place patties on toast; top with sauce.