»

Recipes

»

Sauce
Cheese Sauce Recipe
A quick and easy delicious cheese sauce. This cheese sauce makes a great value addition to the taste of your souffle. Enjoy!!
Cheese Sauce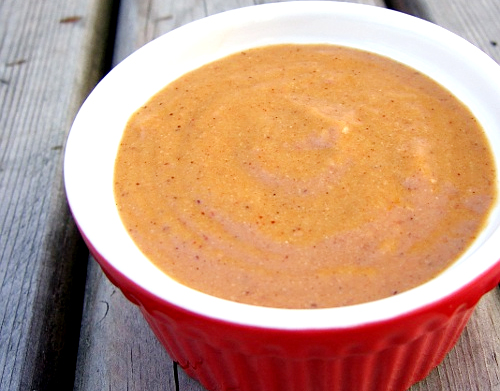 Ingredients
Butter

2 Tablespoon

Flour

1⁄4 Cup (4 tbs)

Milk

1 1⁄2 Cup (24 tbs)

(Hot)

Salt

1⁄4 Teaspoon

Pepper

1 Dash

Grated sharp cheddar cheese

4 Tablespoon
Nutrition Facts
Serving size: Complete recipe
Calories 765 Calories from Fat 464
% Daily Value*
Total Fat 55 g84.2%
Saturated Fat 32.4 g161.8%
Trans Fat 0 g
Cholesterol 161.9 mg
Sodium 1007.7 mg42%
Total Carbohydrates 42 g13.9%
Dietary Fiber 0.85 g3.4%
Sugars 17.9 g
Protein 29 g58.4%
Vitamin A 34.6% Vitamin C
Calcium 81.9% Iron 8.7%
*Based on a 2000 Calorie diet
Directions
GETTING READY
1) Lightly grease a melon mold.

MAKING
2) In a saucepan, heat butter.
3) Add in the flour and mix.
4) Slowly pour in the milk.
5) Stir and cook till thick.
6) Turn off the heat and add in salt, pepper and cheese.
7) Mix well.

SERVING
8) Add sauce over souffle and serve.