»

Recipes

»

Cake

»

Egg-less Cheese And Apple Coffee Cake
Egg-less Cheese and Apple Coffee Cake Recipe
Treat yourself with this delicious and richly flavored apple and cheese coffeecake. A must enjoy snack for all cheese, apple and cake lovers!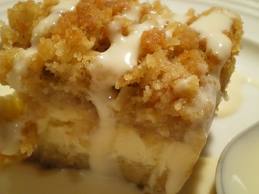 Ingredients
Flour

2 Cup (32 tbs)

(sifted)

Baking powder

3 Teaspoon

Sugar

3 Tablespoon

Cheddar cheese

1⁄2 Cup (8 tbs)

, grated

Brown sugar

1⁄3 Cup (5.33 tbs)

Tart apples

3 Cup (48 tbs)

, chopped (pared)

Salt

1 Pinch

Oil/Butter

1⁄4 Cup (4 tbs)

Milk

3⁄4 Cup (12 tbs)

Cinnamon

1⁄2 Teaspoon

Butter

2 Tablespoon
Nutrition Facts
Serving size
Calories 359 Calories from Fat 125
% Daily Value*
Total Fat 14 g21.8%
Saturated Fat 5.2 g26.1%
Trans Fat 0 g
Cholesterol 19.7 mg
Sodium 245.8 mg10.2%
Total Carbohydrates 51 g17.1%
Dietary Fiber 2.3 g9.2%
Sugars 23.5 g
Protein 6 g12.4%
Vitamin A 4.1% Vitamin C 198.6%
Calcium 28.7% Iron 9.8%
*Based on a 2000 Calorie diet
Directions
GETTING READY
1. Preheat the oven to 425°F
2. Grease an 8-inch square cake tin with oil or butter.

MAKING
3. Into a large bowl, sift dry ingredients together and keep aside
4. In a saucepan, melt the butter.
5. Stir in the sugar and cheese.
6. Add this to the dry ingredients.
7. Add milk alternately until well blended.
8. Fold in the apples
9. Turn the batter into the greased tin.
10. Combine the brown sugar and cinnamon and sprinkle this over the batter.
11. Dot with butter.
12. Bake on middle level of hot oven, until spongy to touch, about 25 to 30 minutes.

SERVING
13. Cut into squares and serve cake warm with coffee.