»

Recipes

»

American

»

Strata
Cheese Strata Recipe
Cheese Strata is a delicious main dish. The cheese with eggs mixed with nushroom soup gives the Cheese Strata a wonderful taste. Cheese Strata is loved by many people around the world.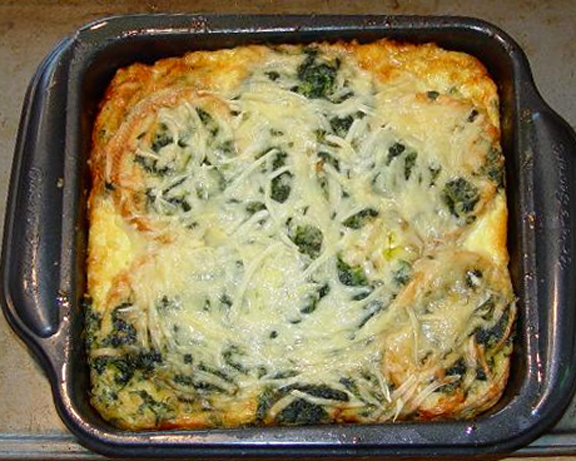 Ingredients
Dry bread slice

12

American cheese

1⁄2 Pound

, thinly sliced

Eggs

4

, beaten

Condensed cream of celery soup/Condensed cream of mushroom soup

10 1⁄2 Ounce

, undiluted (1 Can)

Milk

1 Cup (16 tbs)

Salt

1⁄4 Teaspoon

White pepper

1 Dash
Nutrition Facts
Serving size: Complete recipe
Calories 2247 Calories from Fat 1016
% Daily Value*
Total Fat 113 g174.3%
Saturated Fat 57.6 g287.8%
Trans Fat 0 g
Cholesterol 1093.6 mg
Sodium 3774.4 mg157.3%
Total Carbohydrates 196 g65.4%
Dietary Fiber 10.6 g42.3%
Sugars 21.7 g
Protein 112 g223.3%
Vitamin A 77.2% Vitamin C 0.11%
Calcium 223.4% Iron 74.9%
*Based on a 2000 Calorie diet
Directions
Remove crusts from bread; arrange 6 slices on bottom of greased baking dish.
Cover bread with half the cheese; repeat layers.
Combine eggs and remaining ingredients; pour over bread and cheese.
Let stand 15 minutes.
Bake at 350° for 30 minutes or until puffed and lightly browned.
Image Courtesy :
http://en.wikipedia.org/wiki/File:Breakfast_strata.jpg