»

Recipes

»

Pastry

»

Cheese Pastry Apple Pie
Cheese Pastry Apple Pie Recipe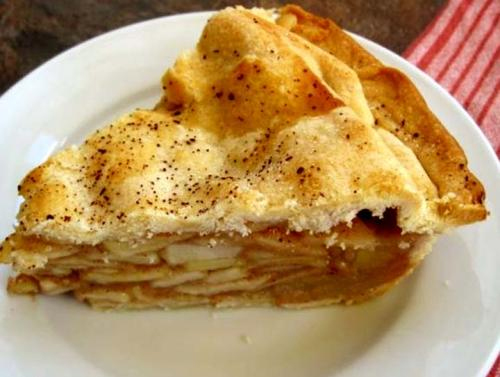 Ingredients
Sifted pastry flour

2 1⁄4 Cup (36 tbs)

Salt

1⁄2 Teaspoon

Shortening

1⁄2 Cup (8 tbs)

Hard butter/Margarine

2 Tablespoon

Shredded old cheddar cheese

1⁄2 Cup (8 tbs)

(Medium Old)

Cold water

3 Tablespoon

Flour

2 Tablespoon

Tart apples

6 Large

, peeled and sliced

Sugar

3⁄4 Cup (12 tbs)

Cinnamon

1 Teaspoon

Lemon juice

2 Tablespoon

Nutmeg

1⁄4 Teaspoon
Nutrition Facts
Serving size: Complete recipe
Calories 3659 Calories from Fat 1346
% Daily Value*
Total Fat 152 g233.8%
Saturated Fat 53.7 g268.6%
Trans Fat 13.5 g
Cholesterol 124.3 mg41.4%
Sodium 1324.2 mg55.2%
Total Carbohydrates 522 g174%
Dietary Fiber 22.2 g88.9%
Sugars 240.5 g
Protein 41 g81.5%
Vitamin A 35.4% Vitamin C 2132.3%
Calcium 113.3% Iron 125.2%
*Based on a 2000 Calorie diet
Directions
Sift flour and salt into a bowl and cut in shortening until mixture looks like oatmeal.
Chop butter in coarsely, then stir in cheese with a fork.
Sprinkle mixture with the cold water and stir until particles cling together.
Gather into a ball and chill for 20 minutes.
Roll out 2/3 of the dough to fit into a deep 9-or 10-inch pie plate.
Trim edge and sprinkle bottom with flour.
Fill with apples and sprinkle with remaining ingredients.
Dampen edge and roll out remaining pastry to fit the top Trim and crimp to seal edges.
Prick or gash the centre top, then brush with milk and sprinkle with sugar.
Bake at 425F for 20 minutes.
Lower heat to 350F and bake 35 minutes longer or until apples are tender.