»

Recipes

»

European

»

British
Cheese Aigrettes Recipe
Cheese Aigrettes has an exceptional taste. The cheese and eggs gives the Cheese Aigrettes a rousing taste. Cheese Aigrettes is inspired by restaurants across the world. Must catch it.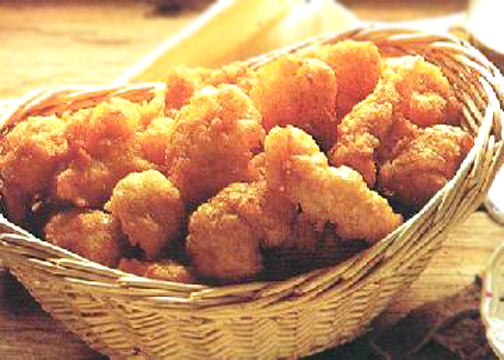 Ingredients
Flour

2 Ounce

Cheese

2 Ounce

Butter

1 Ounce

Eggs

2

Water

4 Fluid Ounce

(1 Gill)

Salt

To Taste

Pepper

To Taste
Nutrition Facts
Serving size: Complete recipe
Calories 782 Calories from Fat 462
% Daily Value*
Total Fat 52 g80.5%
Saturated Fat 29.7 g148.5%
Trans Fat 0 g
Cholesterol 543.5 mg
Sodium 892.8 mg37.2%
Total Carbohydrates 45 g15%
Dietary Fiber 1.6 g6.3%
Sugars 1.3 g
Protein 33 g65.7%
Vitamin A 35.3% Vitamin C
Calcium 47.7% Iron 27%
*Based on a 2000 Calorie diet
Directions
Put butter and water in a saucepan and bring to the boil.
Shake in flour very gradually, stirring continuously.
When the mixture begins to come away from the sides add the grated cheese, continuing to stir.
Let it cool slightly.
Beat in the eggs and seasoning until smooth.
Have ready a pan of boiling fat.
Drop in spoonfuls of the mixture, and cook until golden brown.
Drain well, and sprinkle with a little grated cheese and cayenne pepper.