»

Recipes

»

Biscuit

»

Cheddar Biscuits
Cheddar Biscuits Recipe
Cheddar biscuits are cheesy snacky biscuits that can be easily prepared at home. Made with flour and butter, the cheddar biscuits are oven baked and are best served after it has cooled or chilled.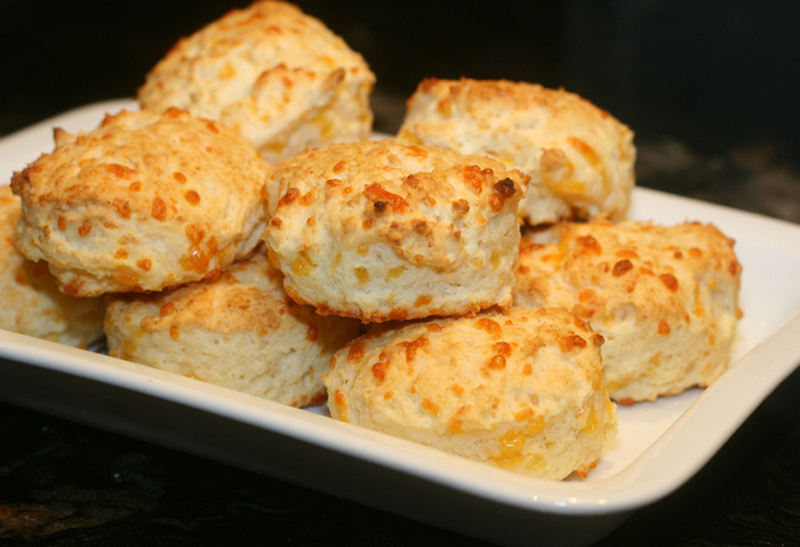 Ingredients
All purpose flour

1 Cup (16 tbs)

, sifted

Butter

1⁄3 Cup (5.33 tbs)

Cheddar cheese

1 Cup (16 tbs)

, grated

Salt

1⁄4 Teaspoon
Nutrition Facts
Serving size: Complete recipe
Calories 1577 Calories from Fat 967
% Daily Value*
Total Fat 110 g169.4%
Saturated Fat 69.3 g346.5%
Trans Fat 0 g
Cholesterol 313.5 mg
Sodium 1395.8 mg58.2%
Total Carbohydrates 97 g32.4%
Dietary Fiber 3.4 g13.5%
Sugars 1.1 g
Protein 50 g99.3%
Vitamin A 66.5% Vitamin C
Calcium 108.2% Iron 37.8%
*Based on a 2000 Calorie diet
Directions
Sift flour and salt together into a bowl.
Cut in butter with a pastry blender or two knives, then mix in cheese.
Mix lightly with your hand until dough holds together.
Roll about 1/2 inch thick on a lightly floured board.
Cut with a small biscuit cutter and prick tops with fork tines.
Place on an ungreased cooky sheet and bake in a preheated 350° oven for 12 to 15 minutes.
Properly baked, the biscuits should be a rich Cheddar color, not brown.
These biscuits taste best cold.
Image Courtesy :
http://www.flickr.com/photos/75231152@N00/6717412339/