»

Recipes

»

Indian
Chana Masala Recipe
Chana masala is an indian chickepeas preparation made with masalas in a gravy base. The chana masala can be served with rice or totis and is quite filling and savory. This chana masala recipe can be cooked in the microwave with coriander powder, garam masala, chili powder, tamarind paste and tomato puree as the key ingredients.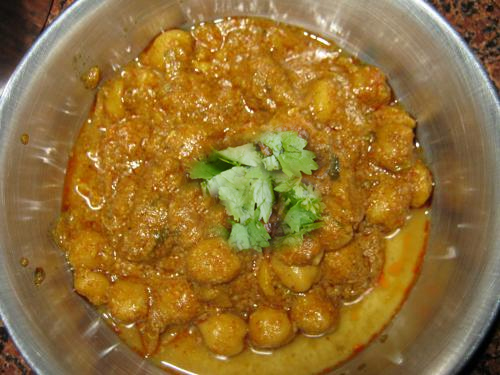 Ingredients
Chickpeas

250 Gram

Water

500 Milliliter

Soda bicarbonate

1⁄2 Teaspoon

Asafoetida

1⁄4 Teaspoon

Cumin seeds

3⁄4 Teaspoon

Bay leaves

2

Black cardamom

4

, crushed

Cinnamon stick

1

Cloves

6

Peppercorns

10

Grated nutmeg

1 Pinch

Onions

200 Gram

, finley chopped

Ginger

1 Inch

, grated

Salt

To Taste

Red chili powder

1 Teaspoon

Garam masala powder

1 1⁄2 Teaspoon

Coriander powder

1 Teaspoon

Rock salt

1 Teaspoon

Tamarind paste

1 Tablespoon

Tomato puree

65 Gram

Ghee/Oil

3 Tablespoon
Nutrition Facts
Serving size: Complete recipe
Calories 1530 Calories from Fat 561
% Daily Value*
Total Fat 65 g99.6%
Saturated Fat 29.7 g148.7%
Trans Fat 0 g
Cholesterol 120.6 mg
Sodium 2956.3 mg123.2%
Total Carbohydrates 196 g65.2%
Dietary Fiber 55.2 g220.7%
Sugars 38.8 g
Protein 57 g113.2%
Vitamin A 20.6% Vitamin C 65.9%
Calcium 53.2% Iron 122.1%
*Based on a 2000 Calorie diet
Directions
Wash and soak the chick peas in water for 6-8 hours and drain.
Boil the chick peas, in a 1.5 litre deep dish with water, salt and soda bi carbonate on 100% power for 11:00 minutes.
Reduce the power level to 80% and microwave for 30:00 minutes.
Stir 2-3 times.
Allow to stand for 10:00 minutes.
Mash with a potato masher if desired Heat the ghee, in a 2 litre deep dish, on 100% power for 1:30 minutes.
Add the cumin seeds, asafoetida, bay leaves, cloves, peppercorn, black cardamoms, cinnamon stick,:ginger, and grated nutmeg and microwave on 100% power for 1:00 minute.
Add the onions and microwave on 100% power for 6:00 minutes.
Stir once during cooking.
Add the tomato puree, salt, rock salt, red chilli powder, garam masala powder and coriander powder.
Mix and microwave on 100% power for 1:30 minutes.
Add the chick peas.
Mix and microwave on 100% power for 2:30 minutes.
Finally add the tamarind paste dissolved in a little water.
Mix and microwave on 100% power for 4:00 minutes.
Serve hot garnished with chopped coriander leaves.