»

Recipes

»

Ceviche
Ceviche Recipe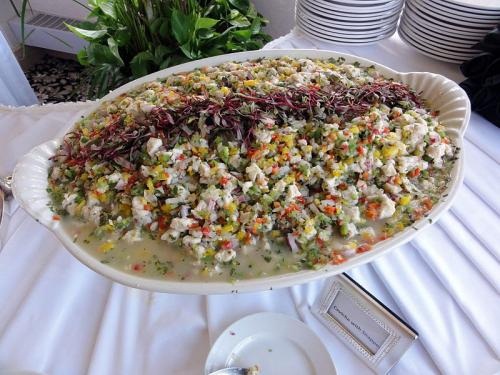 Ingredients
Monk fish/Any firm white fish

1 Pound

(500 Gram)

Lemon juice

4 Tablespoon

(Juice Of 2 Lemons)

Tomatoes

4

, skinned, seeded and diced

Green pepper

1

, cored, seeded and diced

Olive oil

4 Tablespoon

White wine vinegar

1 Tablespoon

Chopped parsley

2 Tablespoon

Lettuce

1 Small

(For Garnish)

Avocado pear

1

, peeled and sliced (For Garnish)

Black olives

6

, stoned and sliced (For Garnish)

Salt

To Taste

Pepper

To Taste
Nutrition Facts
Serving size: Complete recipe
Calories 1462 Calories from Fat 932
% Daily Value*
Total Fat 108 g165.9%
Saturated Fat 14.6 g73.2%
Trans Fat 0 g
Cholesterol 113.4 mg
Sodium 918.9 mg38.3%
Total Carbohydrates 58 g19.5%
Dietary Fiber 26.3 g105.2%
Sugars 21 g
Protein 78 g156.2%
Vitamin A 350.9% Vitamin C 506%
Calcium 21.1% Iron 43.5%
*Based on a 2000 Calorie diet
Directions
Remove the skin and bones from the fish and cut the flesh into dice.
Put into a basin and pour over the lemon juice.
Leave to marinate for at least 3 hours, preferably overnight.
Add the tomatoes and green pepper to the fish with the remaining ingredients, seasoning with salt and pepper to taste.
Stir well to mix.
Line 6 individual plates with lettuce leaves.
Divide the mixture into 6 portions and pile on top of the lettuce.
Garnish with avocado and olive slices.