»

Recipes

»

Celery And Almonds Au Gratin
Celery And Almonds Au Gratin Recipe
This Celery And Almonds Au Gratin tastes unique ! Try this nutty spicy herb and nut bake for your next meal. Your suggestions for this Celery And Almonds Au Gratin are welcome.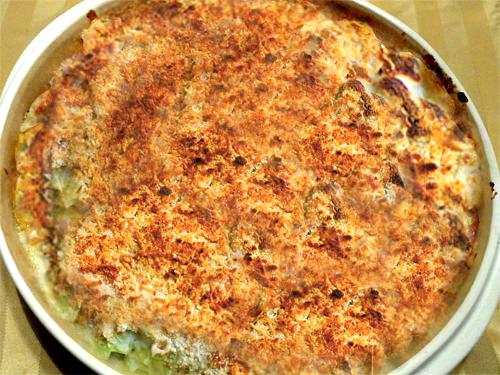 Summary
Difficulty Level
Easy
Health Index
Average
Ingredients
Celery

4 Cup (64 tbs)

(1 Inch Pieces)

Chicken broth

1⁄4 Cup (4 tbs)

Coarsely chopped blanched almonds

1⁄2 Cup (8 tbs)

All purpose flour

3 Tablespoon

Salt

1⁄4 Teaspoon

Pepper

1 Dash

Homemade chicken broth/Canned / from bouillon

1 Cup (16 tbs)

Half and half

1⁄2 Cup (8 tbs)

Shredded sharp cheddar cheese

4 Ounce

(1 Cup)

Butter/Margarine

1 Tablespoon

Dry bread crumbs

1⁄4 Cup (4 tbs)
Nutrition Facts
Serving size: Complete recipe
Calories 1661 Calories from Fat 1104
% Daily Value*
Total Fat 122 g187.1%
Saturated Fat 40.8 g204.2%
Trans Fat 0 g
Cholesterol 178.3 mg
Sodium 2538.4 mg105.8%
Total Carbohydrates 93 g31.1%
Dietary Fiber 20.9 g83.6%
Sugars 15 g
Protein 70 g139.4%
Vitamin A 83.5% Vitamin C 26.6%
Calcium 146.7% Iron 42%
*Based on a 2000 Calorie diet
Directions
1. Put celery and 1/4 cup chicken broth into a 1 1/2-quart glass casserole. Cover with an all-glass lid or plastic wrap. Cook in microwave oven
7 to 8 minutes at High; stir twice. Drain celery. Stir in almonds and set aside uncovered.
2. Melt 3 tablespoons butter in a 1-quart glass measuring pitcher in microwave oven (about 1 minute at High). Add flour, salt and pepper; mix well. Add 1 cup broth and half-and-half gradually, stirring constantly. Cook uncovered 4 minutes at High, or until thickened; stir after 2 minutes, then every 30 seconds.
3. Add 1/2 cup cheese to sauce and stir until melted. Pour over celery and almonds in casserole. Sprinkle with remaining cheese.
4. Melt 2 tablespoons butter in a small glass dish in microwave oven (about 30 seconds at High). Combine melted butter and bread crumbs; sprinkle over cheese. Cover with waxed paper. Cook 1 to 2 minutes
at High, or until cheese melts.