»

Recipes

»

Italian

»

Celebration Cookies
Celebration Cookies Recipe
As easy as 1, 2, 3, these cookies go together in no time. Not only that, but they make fabulous party favors!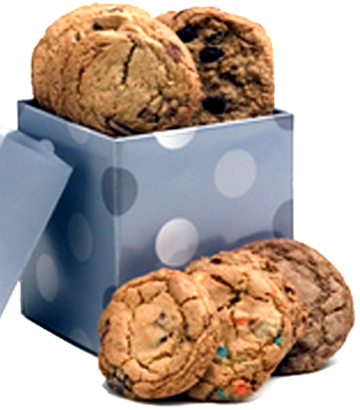 Summary
Preparation Time
20 Min
Cooking Time
55 Min
Ready In
1 Hr 15 Min
Difficulty Level
Medium
Health Index
Average
Servings
10
Ingredients
White cake mix/Yellow cake mix

200 Gram

Shortening

1⁄3 Cup (5.33 tbs)

Butter/Margarine

1⁄3 Cup (5.33 tbs)

, softened

Vanilla

1⁄2 Teaspoon

Egg

1

Rich & creamy frosting

1 Can (10 oz)

(Betty Crocker Any Flavor)
Nutrition Facts
Serving size
Calories 315 Calories from Fat 167
% Daily Value*
Total Fat 19 g28.8%
Saturated Fat 7 g35.1%
Trans Fat 0.9 g
Cholesterol 37.3 mg
Sodium 199.4 mg8.3%
Total Carbohydrates 36 g11.9%
Dietary Fiber 0 g
Sugars 26.3 g
Protein 2 g3.2%
Vitamin A 4.2% Vitamin C
Calcium 2.4% Iron 0.8%
*Based on a 2000 Calorie diet
Directions
1. Heat oven to 375°F. In large bowl, mix about half of the dry cake mix and remaining ingredients except frosting, using spoon, until thoroughly mixed. Stir in remaining cake mix. Break up any lumps with fork.
2. Divide dough in half. Roll each half 1/4 inch thick on lightly floured cloth-covered board with cloth-covered rolling pin. Cut dough with 2 1/2-inch bell- or heart-shaped cookie cutter. Place 1 inch apart on ungreased cookie sheet.
3. Bake 6 to 8 minutes or just until set (centers will be soft). Remove from cookie sheet to cooling rack. Cool completely, about 30 minutes. Decorate cookies as desired with frosting. Store loosely covered at room temperature.
High Altitude (3500-6500 ft): No change.