»

Recipes

»

Salmon

»

Cedar Plank-Grilled Salmon
Cedar Plank-Grilled Salmon Recipe
Grilled salmon is made even better when cooked on a cedar plank. The cedar plank adds a sweet, smoky flavor to the salmon. You'll never grill salmon the traditional way again.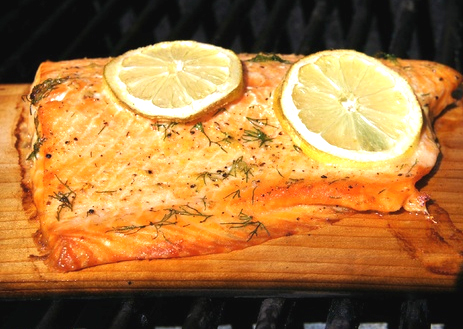 Ingredients
1 ½ lb whole salmon fillet, skin removed

Olive oil

5 Tablespoon

Dill

2 Tablespoon

, minced

1 lemon, zest

Salt

1 Teaspoon

Pepper

1 Teaspoon
Directions
Soak untreated cedar plank(s) fully submerged in water for at least 30 minutes and up to 24 hours.

When ready to grill turn the burners to high for 10 minutes. While grill is heating, mix the olive oil, fresh dill, zest of a lemon, salt and pepper into a bowl; rub the salmon to coat.

Place the cedar plank(s) on the grill over indirect heat and allow for the plank(s) to smoke; usually about 5 minutes. Place the salmon on the plank(s) and turn the burners to a low heat and cook for 20 minutes or until salmon reaches an internal temperature of 135 degrees.

Serves well with lemon wedges, grilled vegetables and rice pilaf. Enjoy!