»

Recipes

»

Cake

»

Cavalier POPs
Cavalier POPs Recipe
These adorable mutts will delight any dog-lover.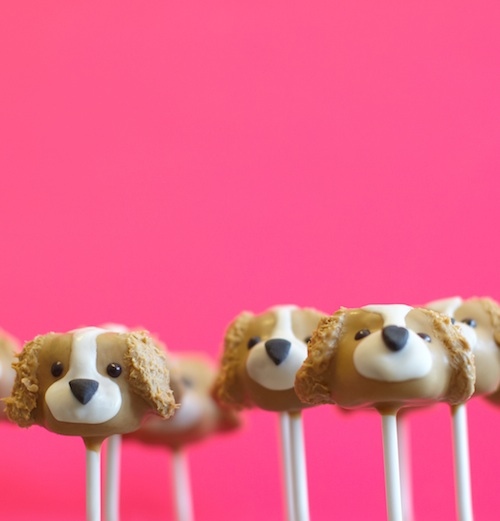 Ingredients
15–20 x 1-oz (30-g) cake balls (see recipe <a href= "http://www.ifood.tv/recipe/pop-basics-making-the-cake-balls">here</a>)

Candy package

1

Candy

7 Ounce

Gum tragacanth

Black fondant (royal icing)

15–20 lollipop sticks

Paintbrush
Directions
1. First, make the dogs' noses. Mix a little gum tragacanth with some black fondant. Shape pieces of it into small triangles, one for each POP, and let harden. Separate the cake ball into three pieces;
one large and two small. Shape the large piece into a head and shape the two smaller pieces into ears.
2. Prepare the candy melts (see page 25). To make a camel color, mix 1 package of yellow candy melts with about 10 brown candy melts, and prepare as normal. Dip each of the ears in the candy melts and attach firmly to the head. Leave to harden in the freezer for 10 minutes. Once hardened, dip the tip of a lollipop stick into the candy melts and insert it into the bottom of the head. Dip the entire POP into the camel-colored candy melts. Let dry.
3. Using thick camel-colored candy melts that have started
to set, paint the textured dog's ears. Next, paint the white markings on the face with the white candy melts—making sure that the candy melts aren't too hot.
4. While still wet, attach the black fondant nose to the dog's face. Next, paint on the eyes with the black candy melts. Let dry, then cover and store in the refrigerator.
This recipe was contributed by
Clare O'Connell
, author of
Pop Party
.
To purchase
POP Party
visit
www.amazon.com
.