»

Recipes

»

Cauliflower Oregano
Cauliflower Oregano Recipe
Cauliflower Oregano is simply irresistible. Try this amazingly delicious cauliflower recipe; I am sure you will always tempt to prepare this for every party!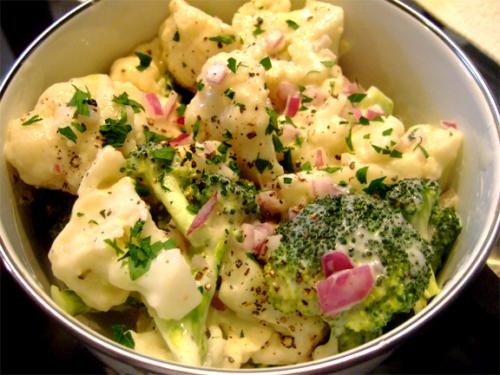 Ingredients
Cauliflower

1 Large

Lemon juice

2 Tablespoon

Dried oregano

3⁄4 Teaspoon

, crumbled

Garlic

1 Clove (5 gm)

, minced

Salt

1⁄4 Teaspoon

Parsley

1 Tablespoon

, minced
Nutrition Facts
Serving size
Calories 43 Calories from Fat 2
% Daily Value*
Total Fat 0.24 g0.37%
Saturated Fat 0.04 g0.22%
Trans Fat 0 g
Cholesterol 0 mg
Sodium 127.7 mg5.3%
Total Carbohydrates 9 g3.1%
Dietary Fiber 4.2 g16.7%
Sugars 3.8 g
Protein 3 g6.4%
Vitamin A 5.5% Vitamin C 127.1%
Calcium 4.8% Iron 6.2%
*Based on a 2000 Calorie diet
Directions
Separate cauliflower into flowerets and cook in boiling salted water until barely tender; drain.
Place in a serving bowl.
Mix together the lemon juice, oregano, garlic, salt, and parsley and spoon over the cauliflower.
Contains about 23 calories per 3/4 cup serving.
Artichoke Variation:If desired, cook cauliflower whole, in boiling salted water; drain.
Place on a platter and surround with 2 packages (9 ounces each) frozen artichoke hearts, parboiled just until tender.
Double the recipe for the lemon dressing and spoon over the cauliflower and artichokes.