»

Recipes

»

Cauliflower Au Gratin
Cauliflower Au Gratin Recipe
Cauliflower Au Gratin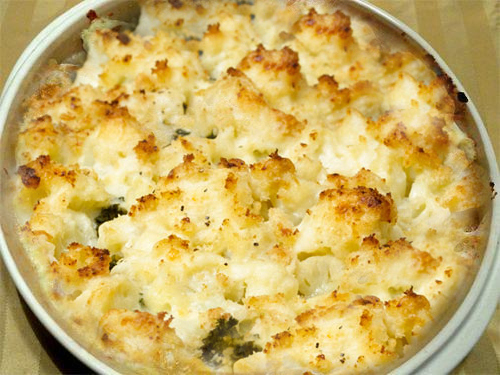 Summary
Difficulty Level
Medium
Cuisine
French
Ingredients
Cauliflower florets

2 1⁄2 Pound

(About 1 Large Head)

Butter

3 Tablespoon

Flour

3 Tablespoon

Milk

2 Cup (32 tbs)

Shredded sharp cheddar cheese

1⁄2 Cup (8 tbs)

Bay leaves

3

Salt

To Taste

Pepper

To Taste
Nutrition Facts
Serving size: Complete recipe
Calories 1271 Calories from Fat 629
% Daily Value*
Total Fat 71 g109.3%
Saturated Fat 41.9 g209.3%
Trans Fat 0 g
Cholesterol 192 mg
Sodium 1303.9 mg54.3%
Total Carbohydrates 123 g40.9%
Dietary Fiber 30.4 g121.6%
Sugars 51.2 g
Protein 56 g112.6%
Vitamin A 50.4% Vitamin C 879.2%
Calcium 120.3% Iron 47.3%
*Based on a 2000 Calorie diet
Directions
Preheat the oven to 350°F.
Grease a 12-inch round baking dish.
Bring a large pot of salted water to a boil.
Add the cauliflower and cook until just tender but still firm, 7-8 minutes.
Drain well.
Melt the butter in a heavy saucepan.
Gradually whisk in the flour until thoroughly blended and cook until hot and bubbling.
Gradually add the milk.
Bring to a boil and continue cooking, stirring constantly, until thick.
Remove from the heat and stir in the shredded cheese.
Season the sauce with salt and pepper to taste.
Place the bay leaves on the bottom of the prepared dish.
Arrange the cauliflower florets on top in an even layer.
Pour the cheese sauce evenly over the cauliflower.
Bake until browned, about 20-25 minutes.