»

Recipes

»

Cauliflower Au Gratin
Cauliflower Au Gratin Recipe
Cauliflower Au Gratin is another tasty dish that you can add to your favorite's list. I enjoy all the ingrediants in this Cauliflower Au Gratin. Make this for sure!
Cauliflower Au Gratin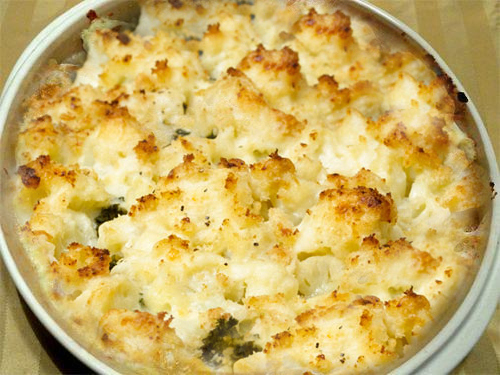 Ingredients
Cauliflower

1

, cut into flowerets, cooked

Bechamel sauce

250 Milliliter

(1 Cup)

Grated parmesan cheese

60 Milliliter

(1/4 Cup)
Nutrition Facts
Serving size: Complete recipe
Calories 691 Calories from Fat 303
% Daily Value*
Total Fat 35 g53.3%
Saturated Fat 15.9 g79.3%
Trans Fat 0 g
Cholesterol 72.8 mg
Sodium 1941.7 mg80.9%
Total Carbohydrates 57 g19%
Dietary Fiber 17.3 g69%
Sugars 28.8 g
Protein 46 g91.9%
Vitamin A 17.5% Vitamin C 529.1%
Calcium 113% Iron 22.5%
*Based on a 2000 Calorie diet
Directions
–  Preheat oven to broil.
–  Place cauliflower in a small au gratin dish, coat with bechamel sauce, sprinkle with Parmesan and cook au gratin for approximately 5 minutes.