»

Recipes

»

Sauce

»

Castillian Meatballs In Wine Sauce
Castillian Meatballs In Wine Sauce Recipe
These Castillian Meatballs In Wine Sauce make my noodles taste mindblowing ! I specially recommend you to try out these fabulous meatballs with buttered noodles and lima beans for a heavy breakfast or weekend meal ! Tell me how you've enjoyed it ! Your suggestions for the Castillian Meatballs In Wine Sauce are always welcome !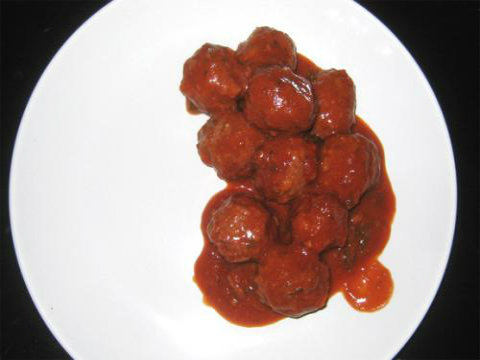 Ingredients
Lean ground beef

2 Pound

Apples

2 Large

, peeled and shredded

Eggs

2

, slightly beaten

Onions

3 Medium

, chopped (1.5 Cups)

Salt

2 Teaspoon

Pepper

1⁄2 Teaspoon

Vegetable oil

2 Tablespoon

Dry red wine

1⁄2 Cup (8 tbs)

Water

1 1⁄2 Cup (24 tbs)

Canned tomato paste

12 Ounce

Basil leaf

1 Teaspoon

, crumbled

Rosemary leaf

1⁄2 Teaspoon

, crumbled
Nutrition Facts
Serving size: Complete recipe
Calories 2771 Calories from Fat 1021
% Daily Value*
Total Fat 115 g177.1%
Saturated Fat 35.8 g178.9%
Trans Fat 0 g
Cholesterol 943 mg
Sodium 4971.5 mg207.1%
Total Carbohydrates 193 g64.3%
Dietary Fiber 34.6 g138.3%
Sugars 111.4 g
Protein 220 g439.4%
Vitamin A 124.8% Vitamin C 233.5%
Calcium 37% Iron 168.8%
*Based on a 2000 Calorie diet
Directions
Combine beef, apples, eggs, 1 cup of the onion, salt and pepper in large bowl; mix lightly.
With wet teaspoon, shape into meatballs, about 1 inch in diameter.
Heat oil in large skillet; brown meatballs, half at a time, removing as they brown.
Add remaining onion to skillet; saute stirring often, until golden.
Stir in wine, water, tomato paste, basil and rosemary.
Add meatballs; bring to boiling; cover; simmer 5 minutes.
Serve with buttered noodles and lima beans, if you wish.