»

Recipes

»

Feel

»

Brittle
Cashew Brittle Recipe
Cashew brittle is a healthy snack which is ready in few minutes. This is one of the recipes that can be prepared with all the available ingredients in the pantry and tastes great. Everyone's favorite-Cashew Brittle.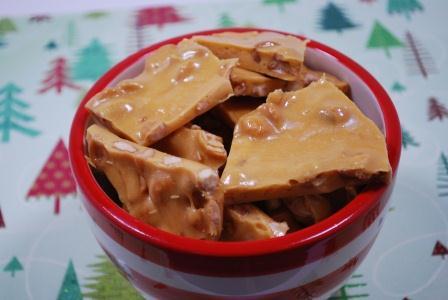 Ingredients
Sugar

1 1⁄2 Cup (24 tbs)

Cashew nuts

1 Cup (16 tbs)

, broken

Corn syrup

1⁄2 Cup (8 tbs)

Baking soda

1 Teaspoon

Butter

2 Tablespoon

Vanilla

1⁄2 Teaspoon
Nutrition Facts
Serving size
Calories 640 Calories from Fat 212
% Daily Value*
Total Fat 25 g38.7%
Saturated Fat 6.5 g32.3%
Trans Fat 0 g
Cholesterol 12.9 mg
Sodium 329.6 mg13.7%
Total Carbohydrates 100 g33.5%
Dietary Fiber 1.7 g6.8%
Sugars 72.1 g
Protein 9 g17%
Vitamin A 3% Vitamin C
Calcium 4.2% Iron 10.1%
*Based on a 2000 Calorie diet
Directions
MAKING
1)Take a heavy saucepan, mix sugar and corn syrup and add 2/3 cup water.
2)Dissolve sugar on low heat stirring frequently.
3)Then, increase heat and cook until candy thermometer reaches 270 degrees or sugar is in soft crack stage.
4)Turn off heat and add butter and nuts.
5)Now, dissolve baking soda and keep aside.
6)Return the nut-syrup mixture to heat and add baking soda and vanilla.
7)Stir vigorously until foaming subsides.
8)Take heavily greased shallow pan or platter and pour the mixture into it.
9)Press it into as thin as possible layer. Let it cool and then break into pieces.

SERVING
10)Serve cashew brittle as a snack or finger food to kids.