»

Recipes

»

Carrot

»

Carrots Orangerie
Carrots Orangerie Recipe
Carrots Orangerie is a mouth watering recipe. An easy to prepare recipe wont let you forget its taste forever. So, give it a try and squander its taste!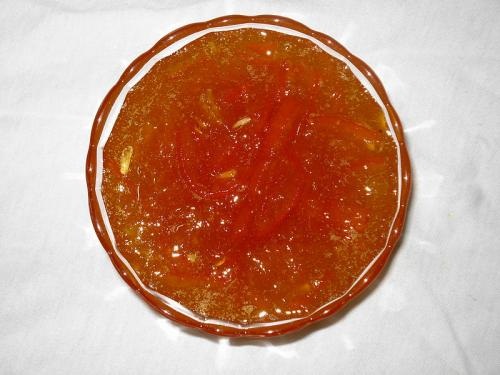 Ingredients
Carrots

1 1⁄2 Pound

(6 Medium Ones)

Boiling water

1 Cup (16 tbs)

, salted

Orange marmalade

1 1⁄2 Tablespoon

Butter/Margarine

1 Tablespoon

Nutmeg

1 Dash
Nutrition Facts
Serving size
Calories 74 Calories from Fat 20
% Daily Value*
Total Fat 2 g3.6%
Saturated Fat 1.3 g6.7%
Trans Fat 0 g
Cholesterol 5.4 mg
Sodium 82.6 mg3.4%
Total Carbohydrates 13 g4.5%
Dietary Fiber 3.2 g12.8%
Sugars 7.6 g
Protein 1 g2.2%
Vitamin A 380.2% Vitamin C 11.5%
Calcium 4.1% Iron 1.9%
*Based on a 2000 Calorie diet
Directions
Peel carrots and slice thinly on the diagonal.
Cook in a large, covered frying pan in a small amount of boiling salted water until almost tender; drain.
Add marmalade, butter, and nutmeg and heat, stirring occasionally, until carrots are glazed.
Contains about 65 calories per 3/4 cup serving.