»

Recipes

»

Carrot-Stuffed Cucumbers
Carrot-Stuffed Cucumbers Recipe
Carrot stuffed cucumbers is an ultimate healthy dish to serve for any meal. This is something that should be served to kids. Kids will not only like this preparation but will demand for more. The combination of carrots and cucumbers is crunchy and delicious.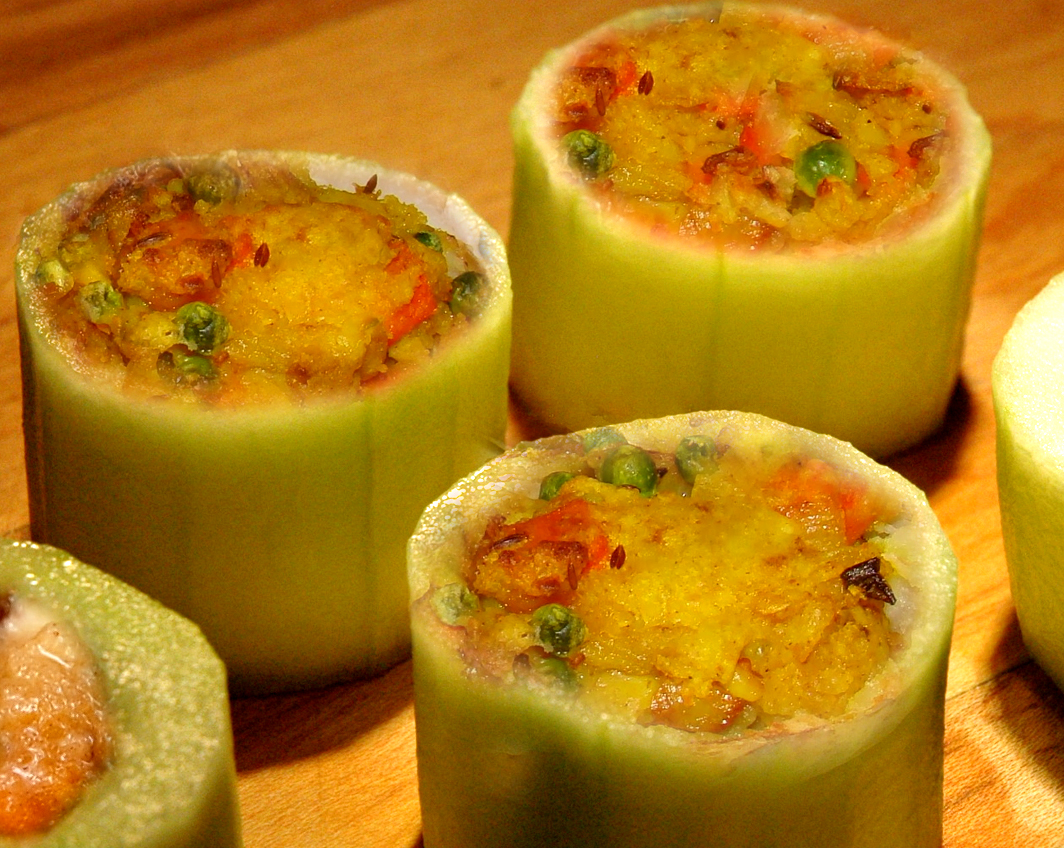 Ingredients
Cucumbers

4 Large

Bread crumbs

1 Cup (16 tbs)

Butter

1⁄2 Cup (8 tbs)

Onion

1 Medium

, finely chopped

Carrots

4 Medium

(Cooked)

Green pepper

1

Pecans

1⁄4 Pound

, chopped

Salt

1⁄2 Teaspoon

Worcestershire sauce

1 Teaspoon

Hot sauce

1 Dash
Nutrition Facts
Serving size
Calories 263 Calories from Fat 190
% Daily Value*
Total Fat 22 g34%
Saturated Fat 8.2 g41.1%
Trans Fat 0 g
Cholesterol 30.2 mg
Sodium 194.4 mg8.1%
Total Carbohydrates 17 g5.5%
Dietary Fiber 3.9 g15.4%
Sugars 6.4 g
Protein 4 g7.1%
Vitamin A 113.7% Vitamin C 38.7%
Calcium 6.4% Iron 6.9%
*Based on a 2000 Calorie diet
Directions
GETTING READY
1)Pare cucumbers and slice in half lengthwise, then remove seeds and pulp.

MAKING
2)In a skillet, heat ¼ cup butter and brown 1/2 cup bread crumbs. Keep aside.
3)In the same skillet, melt remaining butter and saute onion in butter until golden.
4)Fold in carrots, green pepper, pecans, seasonings and remaining crumbs. Heat through.
5)Fill cucumber cavities lightly with carrot mixture and top with reserved crumbs.
6)Bake at 350 degrees for 25 minutes.

SERVING
7)Lightly sprinkle Parmesan cheese, if desired and serve immediately.