»

Recipes

»

Carrot, Avocado & Cilantro Soup
Carrot, Avocado & Cilantro Soup Recipe
A creamy mix of raw carrot, avocado and garlic poured over fresh cilantro.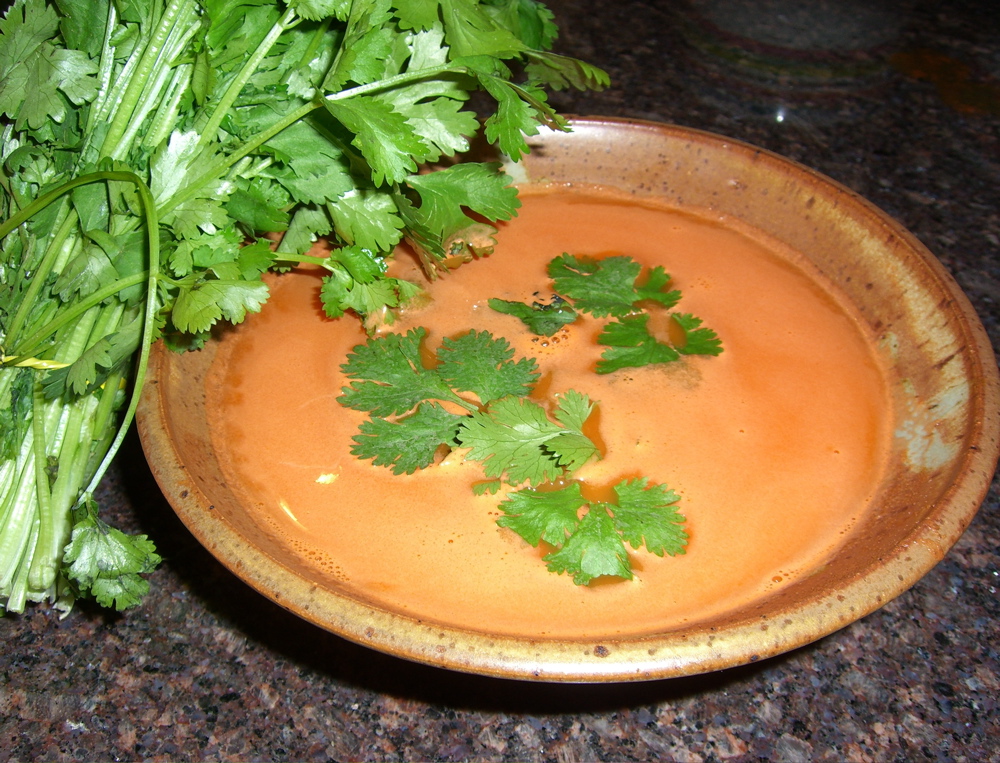 Recipe Story
One day this soup just made itself and we have been good friends ever since.
Ingredients
Organic carrots

8

Avocado

1

Garlic

3 Clove (15 gm)

Organic cilantro

1 Bunch (100 gm)

, chopped

Celtic sea salt

To Taste
Nutrition Facts
Serving size
Calories 302 Calories from Fat 133
% Daily Value*
Total Fat 16 g24.4%
Saturated Fat 2.3 g11.3%
Trans Fat 0 g
Cholesterol 0 mg
Sodium 310.4 mg12.9%
Total Carbohydrates 38 g12.8%
Dietary Fiber 14.9 g59.7%
Sugars 16.9 g
Protein 7 g13.6%
Vitamin A 70.6% Vitamin C 44.1%
Calcium 6% Iron 8.9%
*Based on a 2000 Calorie diet
Directions
Peel and juice carrots.
Blend carrot juice, avocado, garlic and sea salt in a high-powered blender.
Divide chopped cilantro between two bowls.
Pour soup blend over cilantro, serve and enjoy.

great colourful presentation I'd add some white pepper as we love the zip
Posted on:
28 July 2007 - 2:00am

Dan, Check out my blog about this Raw Food guy Wolfe. Since you are ifood.tv raw food expert, I will be interested in listening to your view about what this guy is saying. http://www.ifood.tv/blog/the_raw_food_seminar_with_david_wolfe Great recipes by the way. I am trying to use these to reduce my impulsive eating disorder.
Posted on:
24 February 2007 - 10:14pm