»

Recipes

»

Soup

»

Lean Bacon Carrot Soup
Lean Bacon Carrot Soup Recipe
Carrot Soup is simply irresistible. Try this amazingly delicious Carrot Soup; I am sure you will always tempt to prepare this for every party!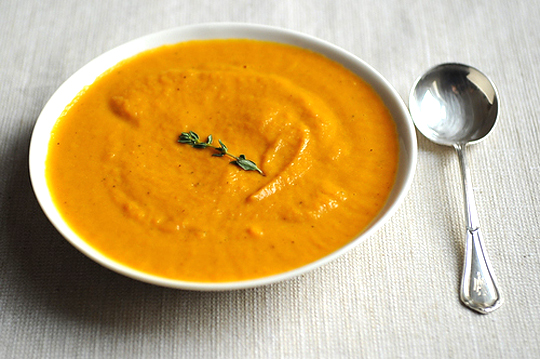 Ingredients
Lean bacon

1⁄4 Pound

, cut in small pieces

Onion

1 Medium

, finely chopped

Water

6 Cup (96 tbs)

Celery stalks

1

, chopped

Carrots

1⁄2 Pound

, peeled and sliced

Potatoes

1⁄2 Pound

, peeled and cubed

Salt

1⁄2 Teaspoon

Freshly ground black pepper

To Taste

Sugar

1 Teaspoon

Mace

1⁄4 Teaspoon

Thyme

1⁄4 Teaspoon

Bay leaf

1

Cream/Milk

1⁄2 Cup (8 tbs)

Finely chopped chervil/Finely chopped parsley

1 Tablespoon

White bread slice

2

, crusts removed

Butter

2 Tablespoon
Nutrition Facts
Serving size: Complete recipe
Calories 1317 Calories from Fat 318
% Daily Value*
Total Fat 34 g52.7%
Saturated Fat 19.9 g99.7%
Trans Fat 0 g
Cholesterol 146 mg
Sodium 2510.1 mg104.6%
Total Carbohydrates 210 g70%
Dietary Fiber 19 g76.1%
Sugars 67.9 g
Protein 42 g84.1%
Vitamin A 800.8% Vitamin C 141.6%
Calcium 64.2% Iron 49.3%
*Based on a 2000 Calorie diet
Directions
Fry the bacon until the fat is rendered.
Remove the bacon and discard all but 1 tablespoon bacon fat.
Add the onion and saute 5 minutes.
In a saucepan, bring the water to a boil.
Add the bacon, onion, celery, carrots, potatoes, salt, pepper, sugar, mace, thyme and bay leaf.
Simmer, covered, for 1 hour.
Puree the soup in a blender and pour it through a sieve back into the saucepan.
Add the cream and chervil and heat the soup but do not boil.
Cut the slices of bread in quarters diagonally and saute in the butter until golden brown on both sides.
Float the bread triangles on individual servings of soup.