»

Recipes

»

Soup

»

Carrot And Potato Soup
Carrot and Potato Soup Recipe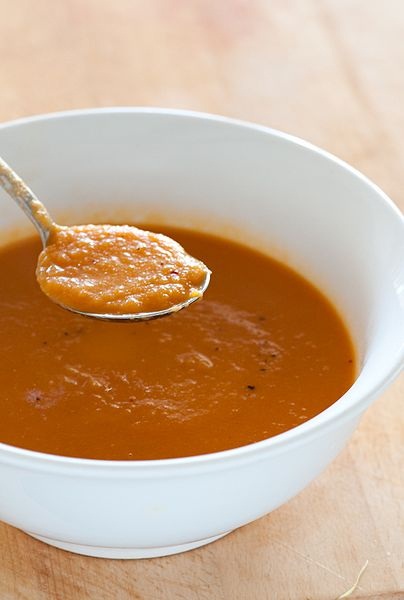 Ingredients
Butter

2 Tablespoon

White of leek

2

, sliced

Cubed potatoes

4 Cup (64 tbs)

Sliced carrots

3 Cup (48 tbs)

Chicken broth

6 Cup (96 tbs)

Salt

2 Teaspoon

(only 1 teaspoon salt if canned broth is used)

White pepper

1⁄8 Teaspoon

Half and half/Milk

2 Cup (32 tbs)

Shredded raw carrots

2 Tablespoon

(adjust quantity as needed)
Nutrition Facts
Serving size
Calories 243 Calories from Fat 90
% Daily Value*
Total Fat 10 g15.9%
Saturated Fat 6.3 g31.6%
Trans Fat 0 g
Cholesterol 30.5 mg
Sodium 1008.9 mg42%
Total Carbohydrates 34 g11.4%
Dietary Fiber 4.5 g18.2%
Sugars 5.2 g
Protein 6 g11.8%
Vitamin A 180.8% Vitamin C 50.7%
Calcium 11.2% Iron 9.6%
*Based on a 2000 Calorie diet
Directions
MAKING
1. In a large saucepan melt butter. Add leeks and cook for several minutes.
2. Stir in potatoes, carrots, broth, salt, and pepper.
3. Boil the mixture, decrease heat and simmer for 30 minutes until tender.
4. Transfer the hot soup in blender or food processor to puree.
5. Transfer it back to pan.
6. Mix half-and-half and heat to serving temperature.

SERVING
7. Garnish soup with shredded carrot.
8. This soup can also be chilled and served cold.
Image Courtesy :
http://commons.wikimedia.org/wiki/File:Carrot_soup_spoon.jpg
what are leeks, recipe I'm looking doesn't have leeks.
Posted on:
10 January 2012 - 5:55pm
Leek is a vegetable which belongs, along with the onion and garlic family. If you can not get leeks, substitute it with the white portion of spring onions, or with shallots, or scallions.
Posted on:
11 January 2012 - 6:44am