»

Recipes

»

Carbonara Sauce
Carbonara Sauce Recipe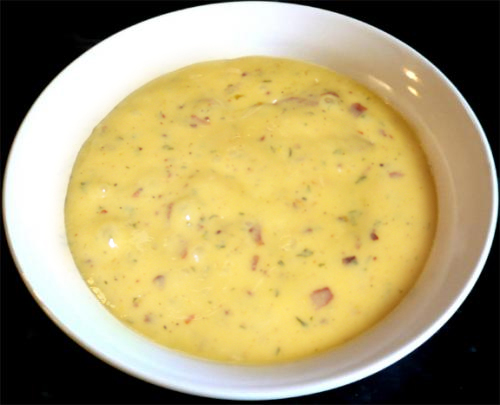 Ingredients
Packed parsley sprigs

1 Cup (16 tbs)

Mild italian pork sausage

1⁄4 Pound

Prosciutto/Cooked ham

1⁄4 Pound

Butter/Margarine

2 Tablespoon

Eggs

3

Freshly grated parmesan/Romano / asiago cheese

1⁄2 Cup (8 tbs)

Freshly ground black pepper

To Taste

Hot cooked spaghetti

4 Cup (64 tbs)

, drained
Nutrition Facts
Serving size: Complete recipe
Calories 2245 Calories from Fat 939
% Daily Value*
Total Fat 106 g163.7%
Saturated Fat 47.6 g238.1%
Trans Fat 0 g
Cholesterol 940.3 mg
Sodium 3876.4 mg161.5%
Total Carbohydrates 187 g62.3%
Dietary Fiber 13.6 g54.4%
Sugars 6.9 g
Protein 122 g244.4%
Vitamin A 142.1% Vitamin C 139.4%
Calcium 95.2% Iron 88.3%
*Based on a 2000 Calorie diet
Directions
Using metal blade, process parsley until finely chopped; set aside.
Remove casing from sausage; cut sausage and prosciutto in chunks.
Process meats together with long on-off bursts until finely chopped.
Heat butter in a wide frying pan over medium-low heat.
Add meat and, stirring occasionally, cook until sausage is lightly browned (about 10 minutes).
Remove from heat.
Wash processor bowl and blade and reassemble.
Process eggs, cheese, and a dash of pepper for 30 seconds.
To meat, add spaghetti, egg mixture, and parsley; mix lightly.