»

Recipes

»

Bread

»

Caraway Rye Bread
Caraway Rye Bread Recipe
Caraway Rye Bread has a one of its kind taste. The rye and wheat flour and sugar gives the Caraway Rye Bread Amazing taste.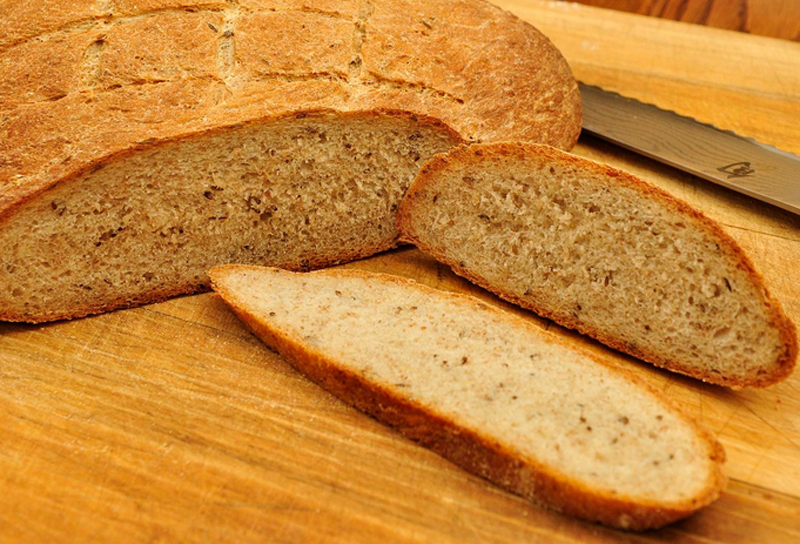 Ingredients
Active dry yeast

2 Tablespoon

Caraway seeds

2 Teaspoon

1 1/2 cups lukewarm milk

Whole wheat flour

1 1/2 Cup (16 tbs)

Sugar

1 Teaspoon

2 tablespoons light molasses, unsulfured

Rye flour

1 Cup (16 tbs)

All purpose flour

2 Cup (16 tbs)

, unbleached

Salt

2 Teaspoon
Directions
In a large bowl proof the yeast in 1/2 cup of the milk with the sugar for 15 minutes or until foamy.
In a small bowl combine the remaining milk, molasses, salt, and caraway, and add to the yeast mixture: Stir in the whole wheat flour, the rye flour, and 1 1/2 cups of the unbleached flour.
Transfer the dough to a floured surface and knead it, incorporating more unbleached flour if the dough is too sticky, for 8 to 10 minutes or until smooth.
Form into a ball, put in a buttered bowl and turn it to coat with the butter.
Cover the bowl with plastic wrap and a dish towel and let the dough rise for 1 1/2 hours or until doubled in bulk.
Punch down dough and knead lightly.
Form the dough into a round and transfer to a buttered baking sheet.
Let the loaf rise, covered loosely, for 30 minutes or until almost doubled.
Brush the loaf with water and bake in a 400° F oven for 15 minutes, or until it sounds hollow when the bottom is tapped.
Transfer to a rack and let cool completely.
Image Courtesy :
http://www.flickr.com/photos/jeffreyww/5838175490/