»

Recipes

»

Syrup

»

Caramelized Syrup
Caramelized Syrup Recipe
Caramelized Syrup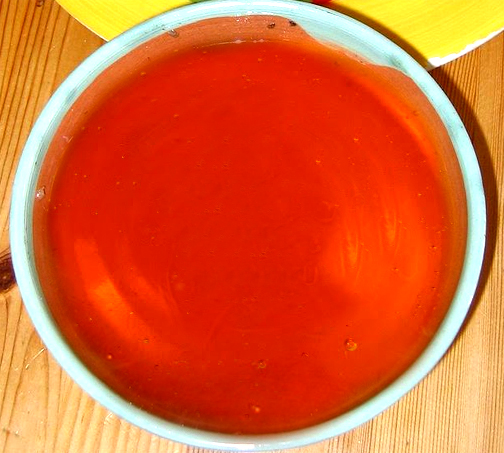 Summary
Preparation Time
10 Min
Cooking Time
10 Min
Ready In
20 Min
Difficulty Level
Very Easy
Health Index
Average
Servings
6
Ingredients
| | | |
| --- | --- | --- |
| | Sugar | 2 Cup (32 tbs) |
| | Boiling water | 1 Cup (16 tbs) |
Nutrition Facts
Serving size
Calories 258 Calories from Fat 0
% Daily Value*
Total Fat 0 g
Saturated Fat 0 g
Trans Fat 0 g
Cholesterol 0 mg
Sodium 2 mg0.1%
Total Carbohydrates 67 g22.2%
Dietary Fiber 0 g
Sugars 66.6 g
Protein 0 g
Vitamin A Vitamin C
Calcium 0.2% Iron 0.04%
*Based on a 2000 Calorie diet
Directions
MAKING
1) Take a heavy skillet and add sugar into it. Melt it on low heat until a clear brown sugar forms. Remove from heat.
2) Add boiling water into sugar syrup and mix. Start the heat and mix until smooth.
3) Cool the mixture and store it into a jar with tight cover.

SERVING
4) Use the syrup in recipes as desired.