»

Recipes

»

Pie

»

Caramel Apple Pie
Caramel Apple Pie Recipe
I bet, it's seldom that there will be something as delicious and wholesome as this Caramel Apple Pie . Try out this wonderfully incredible recipe for Caramel Apple Pie ; you're gonna love this one!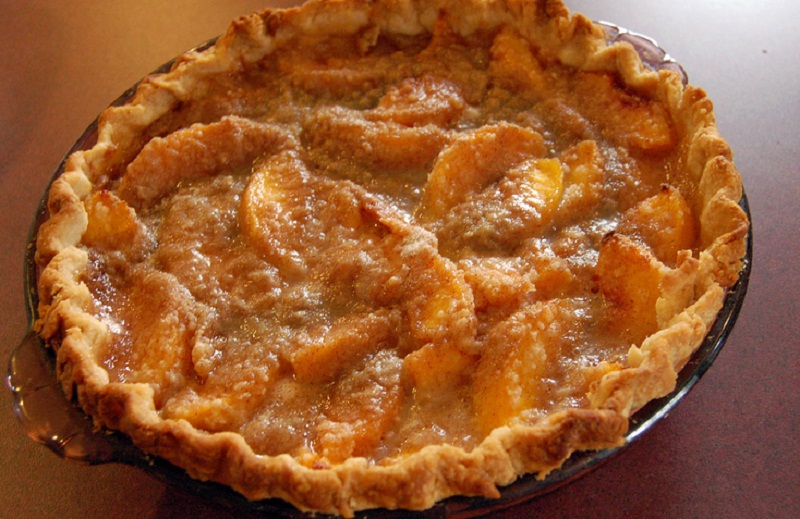 Ingredients
Salt

1 Dash

9 inch unbaked pie shell

1

Sugar

3⁄4 Cup (12 tbs)

Graham cracker crumbs

3⁄4 Cup (12 tbs)

Flour

1⁄4 Cup (4 tbs)

Pecans

1⁄2 Cup (8 tbs)

, chopped

Cinnamon

1⁄2 Teaspoon

Butter

1⁄3 Cup (5.33 tbs)

, melted

Caramels

1⁄4 Pound

Hot water

1⁄4 Cup (4 tbs)
Nutrition Facts
Serving size: Complete recipe
Calories 3275 Calories from Fat 1657
% Daily Value*
Total Fat 191 g294%
Saturated Fat 81.7 g408.4%
Trans Fat 0 g
Cholesterol 169.2 mg
Sodium 1408.7 mg58.7%
Total Carbohydrates 375 g125.1%
Dietary Fiber 8.4 g33.6%
Sugars 239.8 g
Protein 25 g50.3%
Vitamin A 39.3% Vitamin C 2.1%
Calcium 25.3% Iron 19.4%
*Based on a 2000 Calorie diet
Directions
Place apple slices in pie shell.
Combine sugar, crumbs, flour, salt, pecans, cinnamon and butter.
Sprinkle mixture over apple slices.
Bake in a hot oven (450° F) 10 minutes; reduce tempera- ture to moderate 350° F and continue baking 20 minutes.
Com- bine caramels and hot water in top of a double boiler.
Cook over hot water, stirring frequently, until caramels are melted and sauce smooth.
Pour mixture over top of crumbs on apple pie.
Return to oven and continue baking for 10 minutes.
Makes one 9-inch pie.