»

Recipes

»

Coffee
Cappuccino Recipe
This Cappuccino recipe is the reason behind al the compliments i get whenever i have guests. The drink is just yummy when made according to this brilliant Cappuccino recipe! Try it!
Cappuccino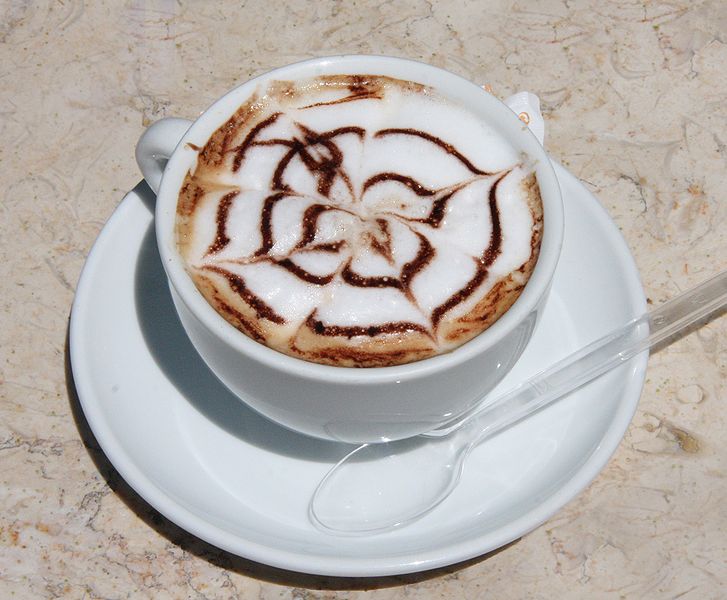 Ingredients
Water

4 1⁄2 Cup (72 tbs)

Instant espresso

3⁄4 Cup (12 tbs)

Unsweetened chocolate square

1

, chopped

Sugar

1 Tablespoon

Milk

4 1⁄2 Cup (72 tbs)

Heavy cream/Whipping cream

1 Cup (16 tbs)

Vanilla extract

1⁄2 Teaspoon
Nutrition Facts
Serving size: Complete recipe
Calories 1680 Calories from Fat 1205
% Daily Value*
Total Fat 137 g210.8%
Saturated Fat 83.6 g418.1%
Trans Fat 0 g
Cholesterol 430.5 mg
Sodium 505.1 mg21%
Total Carbohydrates 90 g30.2%
Dietary Fiber 4.8 g19.3%
Sugars 69.3 g
Protein 45 g89.1%
Vitamin A 91.3% Vitamin C 2.4%
Calcium 133.5% Iron 30.2%
*Based on a 2000 Calorie diet
Directions
1. In 4-quart saucepan over high heat, heat water, instant espresso, chocolate, and 3 tablespoons sugar, stirring often, until chocolate melts and mixture boils. Add milk; cook over medium heat, stirring often, until tiny bubbles form around edge and mixture is hot.
2. Meanwhile, in small bowl, with mixer at medium speed, beat heavy cream, vanilla extract, and 1 tablespoon sugar until soft peaks form.
3. To serve, with wire whisk, beat hot espresso mixture until foamy; pour into cups. Top each serving of Cappuccino with a dollop of whipped cream. If you like, sprinkle with cinnamon.