»

Recipes

»

Sauce
CAPER SAUCE Recipe
This Caper Sauce recipe is subtly flavorful with a dash lemon juice. This Caper Sauce can go well on just about anything, especially boiled or baked dishes. You can also try flavoring the Caper Sauce using a pinch of brown sugar.
Caper Sauce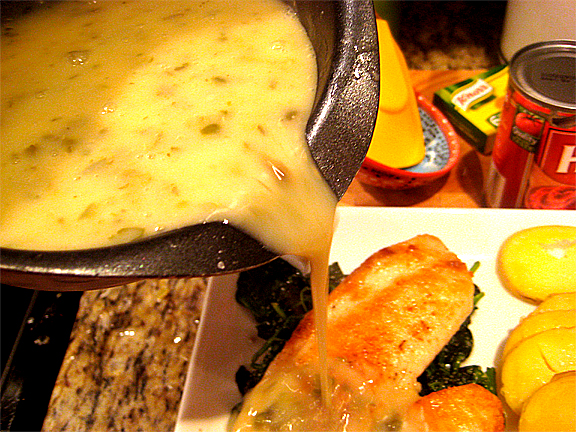 Ingredients
Capers

1 Pound

, chopped

White sauce/Butter sauce

1⁄2 Cup (8 tbs)

Lemon juice/Brown sugar, a pinch

1 Dash
Nutrition Facts
Serving size: Complete recipe
Calories 286 Calories from Fat 70
% Daily Value*
Total Fat 8 g12.4%
Saturated Fat 2.6 g12.9%
Trans Fat 0 g
Cholesterol 9.6 mg
Sodium 4073.7 mg169.7%
Total Carbohydrates 41 g13.6%
Dietary Fiber 0.12 g0.49%
Sugars 5.7 g
Protein 21 g41.1%
Vitamin A 5% Vitamin C 28.5%
Calcium 175.1% Iron 1.4%
*Based on a 2000 Calorie diet
Directions
MAKING
1. In a bowl, take white or butter sauce.
2. Add chopped capers to it. Toss it well.
3. Add a pinch of brown sugar or squeeze a dash of lemon juice over it to bring out the flavor.

SERVING
4. Use Caper Sauce to season chicken, pork, beef and salads.