»

Recipes

»

Bread

»

Cape Cod Cranberry Bread
Cape Cod Cranberry Bread Recipe
Cape cod cranberry bread is almost like any other bread. What makes it special is its name. Cape Cod is the place known for maximum production of cranberries. Enjoy the Cape Cod cranberry bread.
Cranberry Nut Bread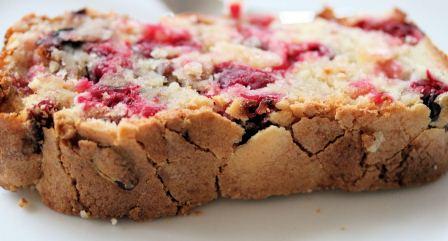 Ingredients
Orange

1

Cranberries-1 1/2 cups, coarsely chopped

Sugar

1 Cup (16 tbs)

Egg

1

All-purpose flour-2 cups

Baking powder

1 1/2 Teaspoon

Salt

1 Teaspoon

Baking soda

1/2 Teaspoon

Butter

1/4 Cup (16 tbs)

Nuts

1/2 Cup (16 tbs)

, chopped
Directions
GETTING READY
1)Cut orange into eighths and discard seeds.
2)Grind through fine blade of food chopper.

MAKING
3)In a bowl, add enough boiling water to orange to equal 1 cup liquid.
4)Add cranberries, sugar, egg to orange liquid.
5)In another bowl, sift flour, baking powder, salt and soda together.
6)Cut in butter with pastry blender until mixture resembles cornmeal.
7)Add cranberry mixture and mix lightly.
8)Add nuts.
9)Take a greased 9x5x3- inch pan and put the batter into it.
10)Leave it for 20 minutes.
11)Bake at 350 degrees for 55 minutes to 1 hour.

SERVING
12)Serve the Cape Cod cranberry bread for a quick snack.