»

Recipes

»

Melon

»

Cantaloupe Wedges
Cantaloupe Wedges Recipe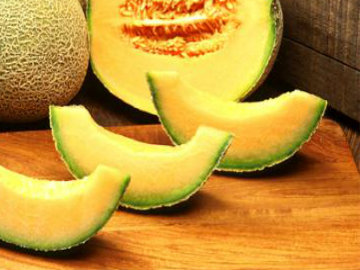 Ingredients
Cantaloupe

1 Medium

(Ripe Fragrant)

Lime

1

, thinly sliced

Powdered ginger

1 Teaspoon
Nutrition Facts
Serving size
Calories 237 Calories from Fat 12
% Daily Value*
Total Fat 1 g2.1%
Saturated Fat 0.37 g1.9%
Trans Fat 0 g
Cholesterol 0 mg
Sodium 109.3 mg4.6%
Total Carbohydrates 61 g20.5%
Dietary Fiber 6.5 g25.9%
Sugars 53.6 g
Protein 6 g11.7%
Vitamin A 459.8% Vitamin C 419.1%
Calcium 6.5% Iron 9%
*Based on a 2000 Calorie diet
Directions
Chill the cantaloupe, cut into wedges, remove the seeds.
Make 3 lengthwise cuts in each wedge and 7-8 crosswise cuts.
Cut along just above the rind the length of the wedge.
The cantaloupe should now be in bite-sized pieces.
Serve garnished with lime slices or very lightly sprinkled with powdered ginger.