»

Recipes

»

Cannoli
Cannoli Recipe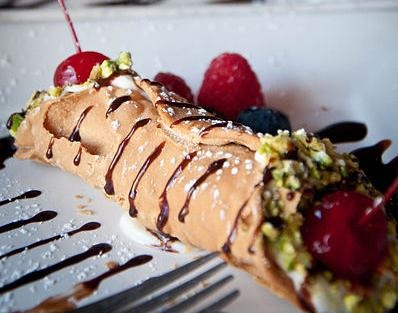 Ingredients
| | | |
| --- | --- | --- |
| | Ricotta cheese | 3 Pound |
| | Confectioners sugar | 2 1⁄2 Cup (40 tbs) |
| | Semisweet chocolate pieces/Grated sweet chocolate | 1⁄4 Cup (4 tbs) |
| | Citron | 2 Tablespoon |
| | Candied red cherries | 10 |
| | Cinnamon | 1⁄2 Teaspoon |
| | Confectioners sugar | 1 Tablespoon |
| | All purpose flour | 3 Cup (48 tbs) |
| | Sugar | 1 Tablespoon |
| | Cinnamon | 1⁄4 Teaspoon |
| | Port | 3⁄4 Cup (12 tbs) |
| | Egg yolk | 1 |
| | Salad oil | 200 Milliliter |
Directions
MAKING
1. In a large bowl, with portable electric mixer, beat ricotta cheese 1 minute.
2. Add 2-1/2 cups confectioners' sugar and beat until light and creamy for about 1 minute at low speed adding chocolate, citron, cherries and cinnamon until well blended.
3. Refrigerate, covered, until well chilled for at least 2 hours.
To make Cannoli Shells :
4. Sift flour with sugar and cinnamon onto a board.
5. Make a well in center fill with port and gradually blend flour into port with a fork.
6. When dough is stiff enough to handle, knead about 15 minutes until dough is smooth and stiff.
7. If too moist and sticky, knead in a little more sifted flour and refrigerate dough, covered for 2 hours.
8. In deep-fat fryer, electric skillet, or heavy saucepan, slowly heat salad oil (3 to 4 inches deep), to 400F on deep-frying thermometer.
9. On lightly floured surface, roll one third of dough to paper thinness, making a 16-inch round and cut into eight 5-inch circles.
10. Wrap a circle loosely around a 6-inch-long cannoli form or dowel, 1 inch in diameter and seal with egg yolk.
11. Gently drop dough-covered forms two at a time into hot oil and fry 1 minute until browned on all sides (turn, if necessary).
12. With tongs or slotted utensil, lift out of oil and drain on paper towels.
13. Carefully remove forms and continue until all dough is used.

SERVING
14. Just before serving, with teaspoon or small spatula, fill shells with ricotta mixture.
15. Garnish ends with chopped pistachios; sprinkle tops with confectioners' sugar.

TIP
If desired make Cannoli Shells a day or two ahead store covered, at room temperature and then fill about 1 hour before serving.