»

Recipes

»

Salmon
Canned salmon Recipe
This canned salmon burger recipe is one of my favorites. Being a health freak, I love the salmon and grill it to add to its health benefits. This juicy burger is a dish that is welcome anytime at my place.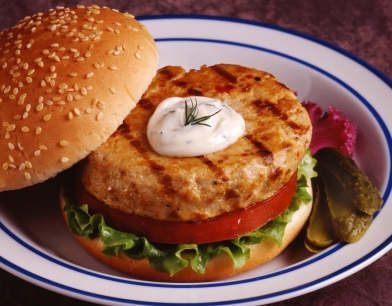 Ingredients
Salmon

16 Ounce

Onion

1⁄2 Cup (8 tbs)

, finely chopped or minced

Crushed black pepper

1 Tablespoon

(fresh)

Dry herbs

1 Tablespoon

Celery

1⁄2 Cup (8 tbs)

, finely chopped

Salt

To Taste

Lemon juice

1 1⁄2 Tablespoon

Crisp bread crumbs

2 Cup (32 tbs)

Eggs

2
Nutrition Facts
Serving size
Calories 1241 Calories from Fat 173
% Daily Value*
Total Fat 20 g30.1%
Saturated Fat 4.6 g23%
Trans Fat 0 g
Cholesterol 329.4 mg
Sodium 1464.3 mg61%
Total Carbohydrates 182 g60.6%
Dietary Fiber 3.6 g14.3%
Sugars 3.3 g
Protein 80 g159.8%
Vitamin A 13.4% Vitamin C 17.7%
Calcium 44.2% Iron 29.7%
*Based on a 2000 Calorie diet
Directions
Combine all the ingredients together in a bowl. You can add some liquid from the canned salmon for blending all ingredients well. Cook the ingredients with a little oil in a open pan. Refrigerate for an hour (covered properly with a cling film). Make into burger patties of desired size and grill. Turn over and grill over on both sides till well cooked and golden brown.
Put together your juicy burger with buns layered with lettuce leaves, slices of onions and tomatoes, mayonnaise and the salmon burger patties. Enjoy!!

Anonymous says :
I appreciate your time and effort to come up this kind of article. Try to take a glance at www.gourmetrecipe.com. A recommendation for you to relax and unwind for a while...In that website you will find many tasty and nutritious dishes for you to choose from and your family. I also assure you, you won't regret it for visiting this site.
Posted on:
9 March 2012 - 12:07pm