»

Recipes

»

Candied Grapefruit Peels
Candied Grapefruit Peels Recipe
Why waste grapefruit or any citrus peels when you can eat them! This simple recipe turns what is usually discarded into something tangy and sweet.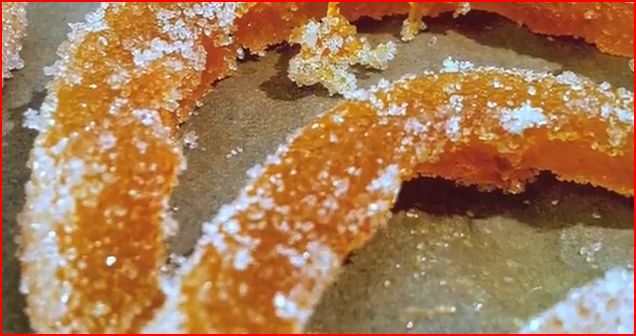 Ingredients
Grapefruit

4 Medium

Sugar

3 Cup (48 tbs)

(1 cup for coating the peel)
Nutrition Facts
Serving size
Calories 880 Calories from Fat 3
% Daily Value*
Total Fat 0.35 g0.55%
Saturated Fat 0.05 g0.25%
Trans Fat 0 g
Cholesterol 0 mg
Sodium 0 mg
Total Carbohydrates 227 g75.5%
Dietary Fiber 3.9 g15.6%
Sugars 199.8 g
Protein 2 g3.9%
Vitamin A 18.4% Vitamin C 218.7%
Calcium 5.5% Iron 2.5%
*Based on a 2000 Calorie diet
Directions
GETTING READY
1. Take the discarded grapefruit peels, scoop out any remaining fruit pulp and cut into strips.
MAKING
2. In a sauce pan, take the grapefruit peel and cover with water and bring it to a boil.
3. Discard the water and strain the peel.
4. Repeat this process for 4 times.
5. Finally take the peel in a sauce pan, add 2 cups of sugar and enough water to cover it.
6. Reduce to a low simmer and cook for 2 hours.
7. Transfer the peels to drying rack and let them cool and harden for 1 hour.
8. Take each candied peel, coat it in the sugar and transfer to a sheet of wax paper.
SERVING
9. Serve and store for use later.
Recipe Courtesy of:
cookingstoned.tv