»

Recipes

»

Canadian

»

Canadian Macaroni And Cheese
Canadian Macaroni and Cheese Recipe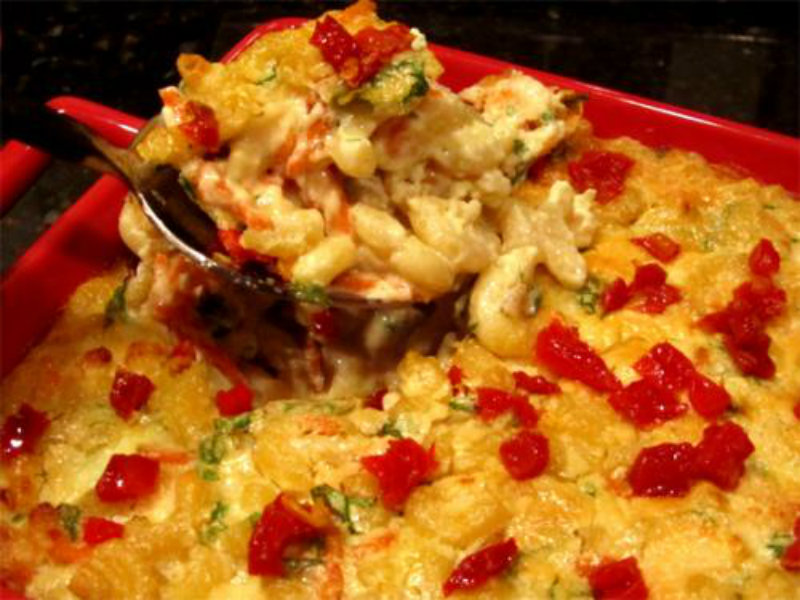 Ingredients
Elbow macaroni package

8 Ounce

(1 package)

Onion

1 Small

, chopped

Butter/Margarine

2 Tablespoon

Canned tomatoes

20 Ounce

(1 can)

Sharp cheddar cheese

4 Ounce

, shredded (1 cup)

Salt

1⁄2 Teaspoon

Basil leaf

1⁄2 Teaspoon

, crumbled

Pepper

1⁄4 Teaspoon
Nutrition Facts
Serving size
Calories 432 Calories from Fat 137
% Daily Value*
Total Fat 17 g25.4%
Saturated Fat 8.9 g44.6%
Trans Fat 0 g
Cholesterol 46.1 mg
Sodium 614.2 mg25.6%
Total Carbohydrates 55 g18.4%
Dietary Fiber 5.2 g20.9%
Sugars 3.3 g
Protein 17 g33.5%
Vitamin A 30.2% Vitamin C 25.7%
Calcium 25.8% Iron 16.3%
*Based on a 2000 Calorie diet
Directions
GETTING READY
1. Preheat the oven at (350°).

MAKING
2. In a kettle, cook macaroni in boiling salted water following label directions, drain and spoon into an 8-cup baking dish.
3. In a large frying pan saute onion lightly in butter or margarine, stir in tomatoes, 1/2 cup of cheese and seasonings.
4. Heat stirring just until cheese melts.
5. Stir into macaroni and sprinkle with remaining cheese.
6. Bake in preheated moderate oven for about 50 minutes until hot.

SERVING
7. Serve the Canadian Macaroni and Cheese hot with melted cheese on the top.