»

Recipes

»

Calzone

»

Calzones
Calzones Recipe
Its in on your own calzones. Beef and cheese are baked inside a tender crust made with Bisquick® mix.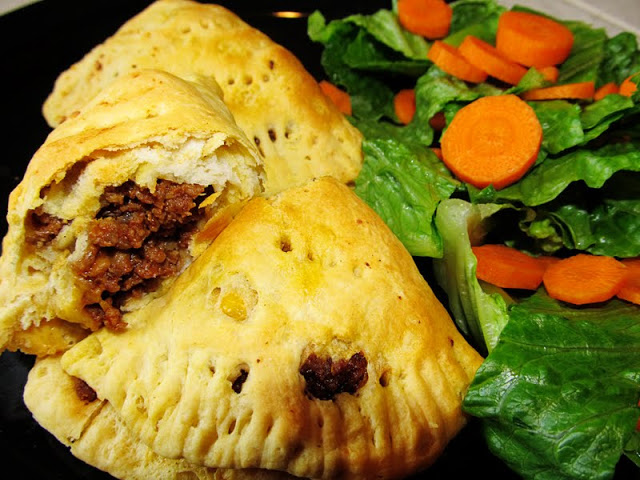 Ingredients
Lean ground beef

1 Pound

Pizza sauce

3⁄4 Cup (12 tbs)

Original bisquick mix

5 Cup (80 tbs)

Water

3⁄4 Cup (12 tbs)

Vegetable oil

3 Tablespoon

Shredded cheddar cheese

1 1⁄3 Cup (21.33 tbs)

Grated parmesan cheese

1 Tablespoon

, grated (with garlic and herbs)
Nutrition Facts
Serving size
Calories 653 Calories from Fat 287
% Daily Value*
Total Fat 32 g49.7%
Saturated Fat 11.4 g56.8%
Trans Fat 3.3 g
Cholesterol 72.7 mg
Sodium 1166.4 mg48.6%
Total Carbohydrates 58 g19.4%
Dietary Fiber 2.4 g9.5%
Sugars 2.4 g
Protein 28 g56.9%
Vitamin A 8.4% Vitamin C 1.5%
Calcium 30% Iron 20.2%
*Based on a 2000 Calorie diet
Directions
1. Heat oven to 450ºF. Cook beef in 10-inch skillet over medium heat, stirring occasionally, until brown; drain. Stir in pizza sauce.
2. Stir Bisquick mix, water and oil until dough forms (dough will be dry). Place dough on surface generously dusted with Bisquick mix; gently roll in Bisquick mix to coat. Shape into ball; knead 5 times.
3. Divide dough in half. Roll or pat each half into 12-inch circle. Place each dough circle on ungreased cookie sheet. Top half of each circle with Cheddar cheese. Top cheese with beef mixture. Fold other half of each circle over filling. Press edges together with fork to seal. Sprinkle with Parmesan cheese.
4. Bake 15 to 20 minutes or until golden brown. Immediately remove from cookie sheets to wire rack. Cool 5 minutes. Cut each calzone into 5 wedges.
High Altitude (3500-6500 ft) Heat oven to 475ºF. Increase water to 1 cup. Let dough rest 3 to 5 minutes after kneading. Bake 15 to 18 minutes.