»

Recipes

»

American

»

California Pizza
California Pizza Recipe
With chicken, olives and avocados, this is a refreshing change of pace from the ordinary pizza.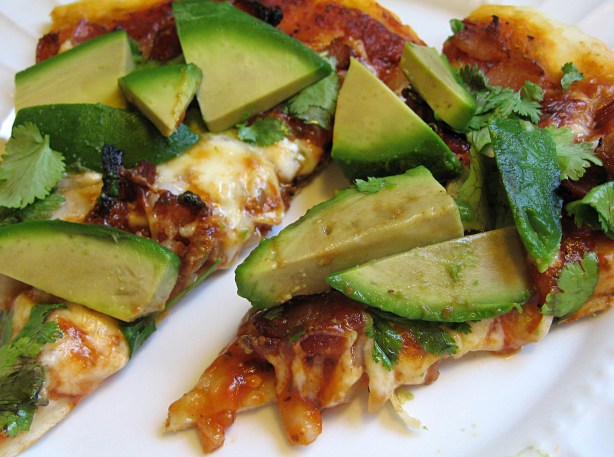 Ingredients
Canned tomato sauce

8 Ounce

Dried oregano

1 Teaspoon

Dried basil leaves

1⁄2 Teaspoon

Salt

1⁄2 Teaspoon

Garlic powder/Onion powder

1⁄4 Teaspoon

Pepper

1⁄8 Teaspoon

Original bisquick mix

2 Cup (32 tbs)

Cold water

1⁄2 Cup (8 tbs)

Shredded monterey jack cheese

1 1⁄2 Cup (24 tbs)

(6 ounces)

Cut-up cooked chicken

2 Cup (32 tbs)

Cut up cooked chicken

2 Cup (32 tbs)

Sliced ripe olives

1⁄2 Cup (8 tbs)

Avocado

1 Medium

, sliced
Nutrition Facts
Serving size
Calories 967 Calories from Fat 505
% Daily Value*
Total Fat 58 g88.5%
Saturated Fat 17.7 g88.7%
Trans Fat 2 g
Cholesterol 186.2 mg
Sodium 1700 mg70.8%
Total Carbohydrates 50 g16.5%
Dietary Fiber 9.7 g38.6%
Sugars 4.5 g
Protein 63 g126.1%
Vitamin A 26.8% Vitamin C 23.5%
Calcium 44.9% Iron 34.3%
*Based on a 2000 Calorie diet
Directions
1. Heat oven to 425ºF. Mix tomato sauce, oregano, basil, salt, garlic powder and pepper; set aside. Stir Bisquick mix and cold water until soft dough forms. Pat or roll dough into 12-inch circle on ungreased cookie sheet with hands dusted with Bisquick mix; pinch edge, forming 1/2-inch rim. Or pat dough in 12-inch pizza pan.
2. Sprinkle 1/2 cup of the cheese over dough. Spread tomato sauce over top. Top with chicken and olives. Sprinkle with remaining 1 cup cheese.
3. Bake 20 to 25 minutes or until crust is golden brown and cheese is bubbly. Garnish with avocado slices.
High Altitude (3500-6500 ft) Use boiling water to make dough.

Why is for breakfat. You have 45 minutes to make breakfast in the morning. Nonetheless recipe looks good.
Posted on:
10 January 2007 - 6:05pm