»

Recipes

»

American

»

California Cheese Cake
California Cheese Cake Recipe
This California Cheese Cake is a true delight for anyone who enjoys a great treat! Yes, here's a simple and rather effortless recipe of California Cheese Cake for you to try. Let me know how it turned out for you!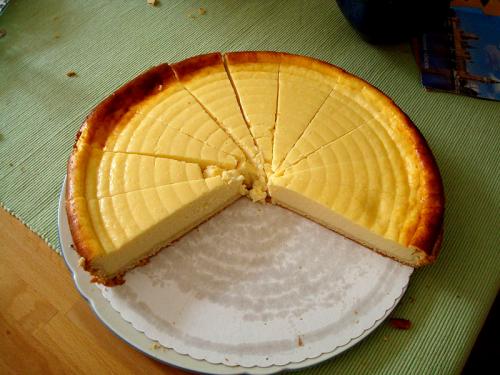 Ingredients
Ginger snap cookie crumbs

1 Cup (16 tbs)

, lightly packed

Sugar

130 Gram

Butter

2 Tablespoon

, melted

Cream cheese

12 Ounce

Vanilla

1 1⁄2 Teaspoon

Eggs

2

, well beaten

Sour cream

1 Cup (16 tbs)

Chopped nuts

2 Tablespoon
Nutrition Facts
Serving size: Complete recipe
Calories 3710 Calories from Fat 1874
% Daily Value*
Total Fat 252 g387.7%
Saturated Fat 121.3 g606.3%
Trans Fat 0 g
Cholesterol 981.2 mg
Sodium 2725.7 mg113.6%
Total Carbohydrates 319 g106.3%
Dietary Fiber 10.1 g40.5%
Sugars 223.6 g
Protein 52 g104.3%
Vitamin A 148% Vitamin C 3.4%
Calcium 117.1% Iron 241.9%
*Based on a 2000 Calorie diet
Directions
Combine cookie crumbs and 2 tablespoons of the sugar; blend in butter.
Press mixture evenly on sides and bottom of 8-inch cake pan with a removable bottom.
Let cream cheese stand at room temperature until softened; beat until fluffy.
Bend in 6 tablespoons of the sugar gradually.
Mix in 1 teaspoon of the vanilla.
Beat in eggs.
Turn into lined cake pan.
Bake in a moderate oven (350°F.) about 30 minutes, or until firm in center.
Remove from oven and let stand .in pan, away from drafts, 5 minutes.
Mix sour cream, 1 tablespoon of the sugar and 1/2 tea- spoon of the vanilla.
Spread on top of cake and sprinkle with nuts.
Return to oven and bake until cream is set, about 5 min- utes.
Remove from oven and let cool in pan away from drafts.
Remove side of pan.
Chill in refrigerator about 4 hours before serving.