»

Recipes

»

Rice

»

Calas
Calas Recipe
An aficionado of Calas guarantees that this Calas recipe will get you addicted in minutes!! Serve this tasty snack once and it will be a guaranteed repeat! You do not need to be a gourmet to gauge the deliciousness and flavor of this dish.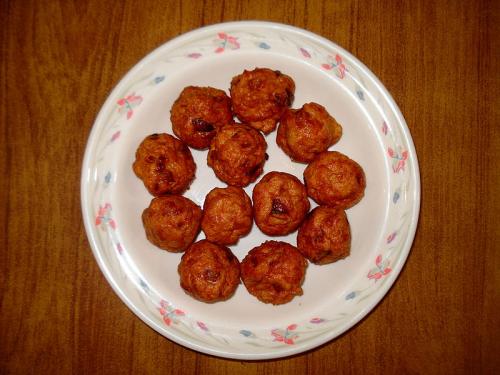 Summary
Preparation Time
30 Min
Cooking Time
10 Min
Ready In
40 Min
Difficulty Level
Medium
Ingredients
Rice

1/2 Cup (16 tbs)

Yeast package

1

Eggs

3 Small

Flour

1 1/2 Cup (16 tbs)

Sugar

Salt

1/2 Teaspoon

Nutmeg

1/2 Teaspoon

Shortening

1 Tablespoon

, melted
Directions
MAKING
1) In a saucepan, combine rice and 3 cups water.
2) Cook till rice is soft and water is absorbed.
3) Cool.
4) In 1/4 cup warm water, add yeast and allow to soften.
5) Mix into the rice.
6) Place a lid and refrigerate for several hours.
7) In a bowl, add eggs and beat.
8) Stir into the rice mixture.
9) Add in the flour, 1/2 cup sugar, salt, and nutmeg.
10) Allow to stand and rise for 15 minutes.
11) Stir well till settled down.
12) In a skillet, add enough fat for deep frying.
13) Scoop the rice mix and drop by spoonfuls into the hot fat.
14) Fry till well browned on both sides.
15) Remove onto paper towel to drain.

SERVING
16) Serve hot, sprinkled with sugar.