»

Recipes

»

American

»

Cajun
Cajun Chicken Recipe
Panfry spicy chicken with a crunchy coating that's perfect on a plate with vegetables or on a bun as a sandwich.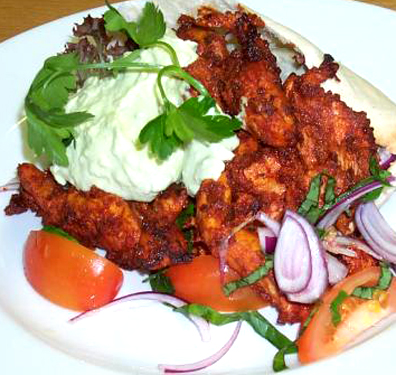 Ingredients
Boneless, skinless chicken breast halves

4

(1 1/4 pounds)

Boneless

Can (0 oz)

, standard

Corn flakes

1 1⁄2 Cup (24 tbs)

(Country®)

Original bisquick mix/Reduced fat bisquick mix

1⁄2 Cup (8 tbs)

, reduced

Original bisquick mix/Reduced fat bisquick mix

1⁄2 Cup (8 tbs)

Cajun seasoning

2 Teaspoon

Water

1⁄2 Cup (8 tbs)

Butter/Margarine

2 Tablespoon
Nutrition Facts
Serving size
Calories 411 Calories from Fat 99
% Daily Value*
Total Fat 11 g17.2%
Saturated Fat 5.1 g25.4%
Trans Fat 1 g
Cholesterol 115.9 mg
Sodium 522 mg21.7%
Total Carbohydrates 32 g10.7%
Dietary Fiber 1.4 g5.6%
Sugars 2.9 g
Protein 42 g84.9%
Vitamin A 12% Vitamin C 10.6%
Calcium 4.7% Iron 26.2%
*Based on a 2000 Calorie diet
Directions
1. Flatten each chicken breast half to 1/4-inch thickness between sheets of waxed paper or plastic wrap.
2. Crush cereal. Mix cereal, Bisquick and Cajun seasoning. Dip chicken into water, then coat with cereal mixture.
3. Melt butter in 12-inch nonstick skillet over medium heat. Cook chicken in butter 8 to 10 minutes, turning once, until juice is no longer pink when centers of thickest pieces are cut.
High Altitude (3500-6500 ft) Cook chicken 10 to 12 minutes.