»

Recipes

»

Salad

»

Caesar Salad Wrap
Caesar Salad Wrap Recipe
The traditional Caesar salad now in a new and exciting role- the Caesar salad wraps. This combination of yummy ingredients all in a wrap is an absolute mouth-watering delight. Enjoy a delicious meal and chill out on your holiday.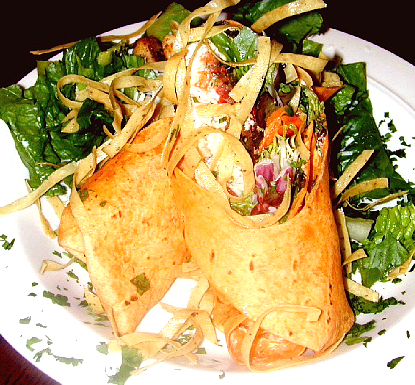 Ingredients
Romaine

16 Small

, torn into bite size pieces

Chopped red onion

1⁄4 Cup (4 tbs)

Shredded parmesan cheese/Romano cheese

2 Tablespoon

Caesar dressing

1⁄4 Cup (4 tbs)

Vegetable flavored tortillas/Flour tortillas

4

(6 To 8 Inch In Diameter)

Hard-cooked eggs

4

, sliced

Plum tomatoes

2

, sliced (Roma)
Nutrition Facts
Serving size
Calories 360 Calories from Fat 169
% Daily Value*
Total Fat 18 g28.4%
Saturated Fat 5.5 g27.7%
Trans Fat 0 g
Cholesterol 263.8 mg
Sodium 498.9 mg20.8%
Total Carbohydrates 33 g11%
Dietary Fiber 12.4 g49.8%
Sugars 8.1 g
Protein 19 g39%
Vitamin A 799.9% Vitamin C 186.8%
Calcium 29.8% Iron 32.8%
*Based on a 2000 Calorie diet
Directions
1. Toss romaine, onion, cheese and dressing to coat.
2. Spread romaine mixture evenly down center of each tortilla. Top with eggs and tomatoes.
3. Fold up one end of tortilla about 1 inch over filling; fold right and left sides over folded end, overlapping. Secure with toothpick if necessary. Serve immediately.

Hey Vibs Great looking wrap !!! If you ever wanted samples of mine to try just PM me and I will send out !! You can check out www.tumaros.com for flavors as we have 21 !!! The Tortilla Guy
Posted on:
24 August 2007 - 7:58am

Hey Vibs Great Post Thanks...! With Regards Food Lover veerpradeep
Posted on:
24 August 2007 - 4:13am