»

Recipes

»

Caesar Salad With Chicken
Caesar Salad with Chicken Recipe
Not much to say about caesar salad other than we all know that it's fabulous.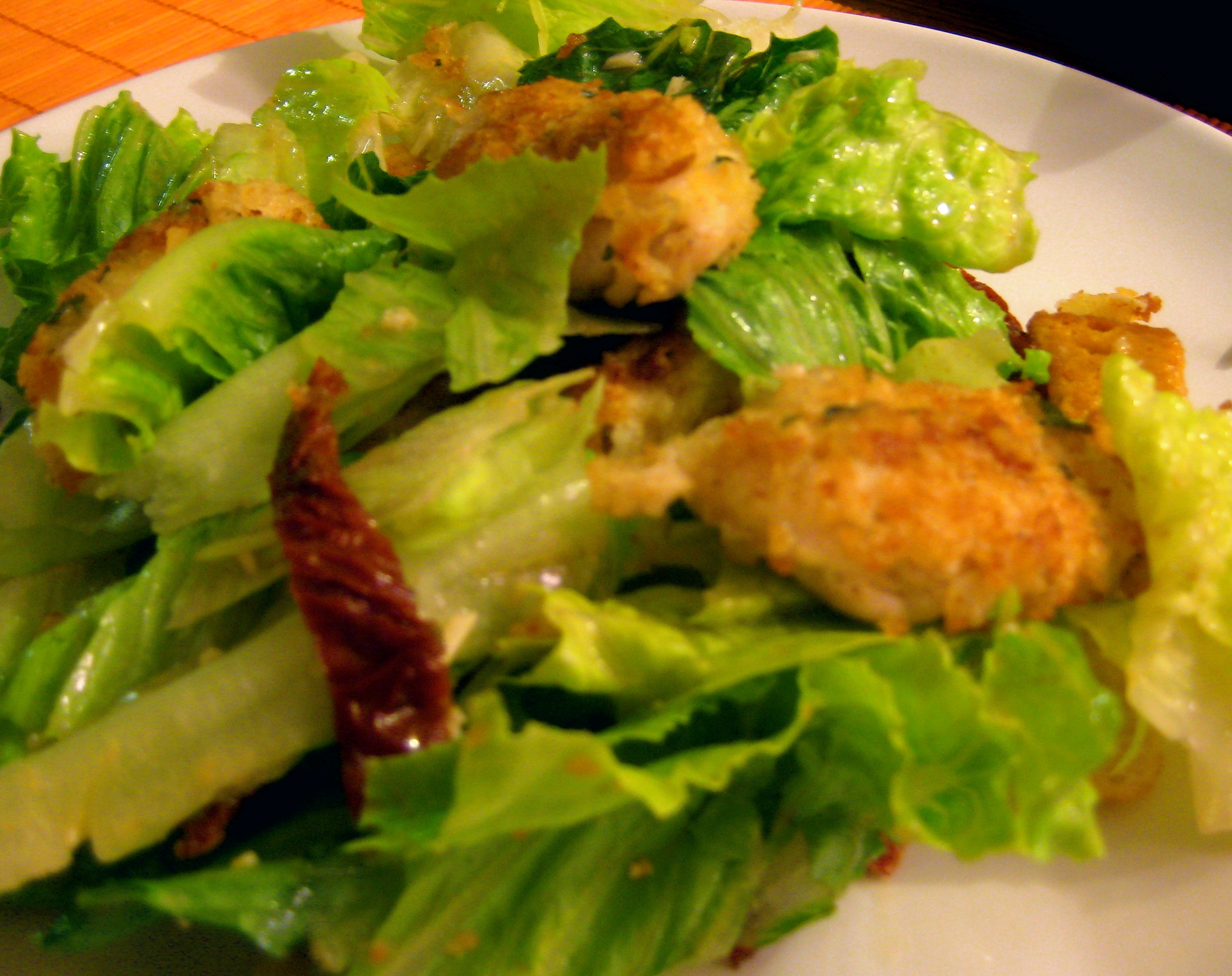 Summary
Preparation Time
20 Min
Cooking Time
10 Min
Ready In
30 Min
Difficulty Level
Easy
Health Index
Healthy
Servings
1
Ingredients
Iceberg lettuce

1

Crushed minced garlic

5 Clove (25 gm)

Raw pasteurized egg

1

Dijon mustard

1 Tablespoon

Lemon juice

1 Tablespoon

Worcestershire sauce

1 Tablespoon

Red wine vinegar

4 Tablespoon

Olive oil

7 Tablespoon

Grated cheese

1 Tablespoon

Sundried tomatoes in oil

3

, sliced thin

Croutons

1 Cup (16 tbs)

Organic chicken strips

1⁄2 Pound

French bread slice/Any other bread

3

(slightly stale)

Parmesan cheese

2 Tablespoon

Parsley flakes

2 Teaspoon

All purpose flour

1 Cup (16 tbs)

Egg

1

Olive oil

2 Cup (32 tbs)

(For frying)

Salt

To Taste

Pepper

To Taste
Nutrition Facts
Serving size: Complete recipe
Calories 6298 Calories from Fat 5135
% Daily Value*
Total Fat 580 g892.7%
Saturated Fat 85 g424.9%
Trans Fat 0 g
Cholesterol 252.1 mg84%
Sodium 2382.6 mg99.3%
Total Carbohydrates 219 g73%
Dietary Fiber 13.4 g53.5%
Sugars 15.3 g
Protein 68 g135.1%
Vitamin A 55.6% Vitamin C 60.8%
Calcium 95.5% Iron 140.8%
*Based on a 2000 Calorie diet
Directions
1. In medium sized bowl, take garlic and smoosh around bowl for about 2 minutes
2. Add egg, dijon mustard, lemon juice and worcestershire sauce and stir well with whisk
3. Add red wine vinegar, olive oil and parmesan cheese, mix well, set aside.
4. Put slices of bread in a blender and blend until crumbly. Add parmesan cheese, parsley and salt and pepper to taste and hit the 'blend' button for a few more seconds.
5. In three separate bowls, put flour, egg and bread crumbs. Add olive oil to skillet and turn to medium heat.
6. Dip the strips of chicken in each bowl then lay onto frying pan until cooked through, golden brown and crispy.
7. In one large bowl add iceburg lettuce, sundried tomatoes, croutons and mix. Then add salad dressing and toss. Finally, add warm chicken strips on top and voila! Time to eat!