»

Recipes

»

Salad
Caesar Salad Recipe
Enjoy the taste of the clssic, traditional Caesar salad with this simple and easy recipe. Learn the secrets from the experts to make a tasty treat.
Caesar Salad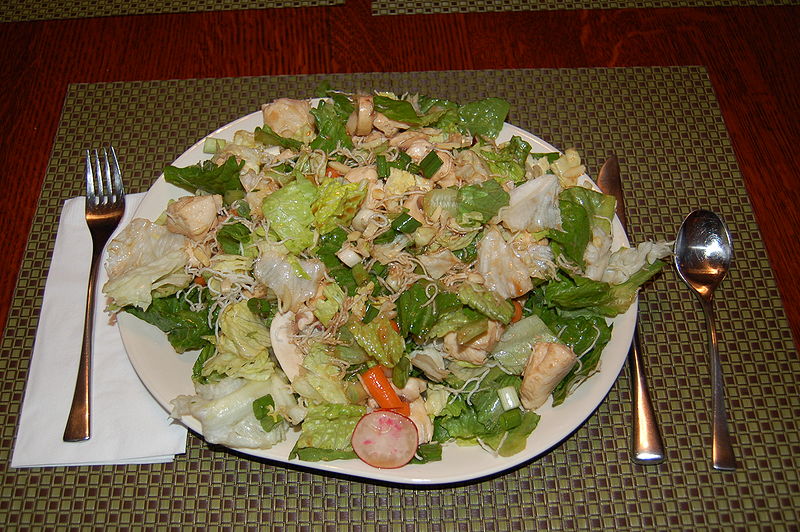 Ingredients
Garlic

1 Clove (5gm)

Olive oil

Romaine - 1 head

Iceberg lettuce - 1 head

Herb-seasoned stuffing croutons - 2 cup

Salt

3/4 Teaspoon

Pepper

1/2 Teaspoon

Dry mustard

1/4 Teaspoon

Worcestershire sauce

1 Tablespoon

Parmesan cheese

1/4 Cup (16 tbs)

, grated

Egg

1

Lemon juice

3 Tablespoon

Anchovy fillets – 1-2-oz. can, drained
Directions
MAKING
1) Fill a cup with 1/3 cup olive oil and add in the garlic.
2) Cover and refrigerate for 1 hour.
3) Tear the salad greens into medium pieces add into a large salad bowl.
4) Refrigerate for about 1 hour.
5) In a pan, heat 2 tablespoons olive oil and add in the croutons.
6) Place over moderate heat and gently stir till lightly browned. Keep aside.
7) Remove the garlic from the oil and add salt, pepper, mustard and Worcestershire sauce.
8) Add cheese over the chilled greens.
9) Add the seasoned oil over and gently toss.
10) Coddle the egg for 1 minute and add to the salad.
11) Gently tossing till the egg disappears.
12) Add in the lemon juice.
13) Sprinkle the toasted croutons over the salad and toss.

SERVING
14) Serve immediately in chilled salad bowls.
15) Garnish with rolled anchovies.