»

Recipes

»

Omelette

»

Cabbage Omelette
Cabbage Omelette Recipe
Breakfast was to be eggs today. Needed to quickly whip something up for 3 people, so here's what we did.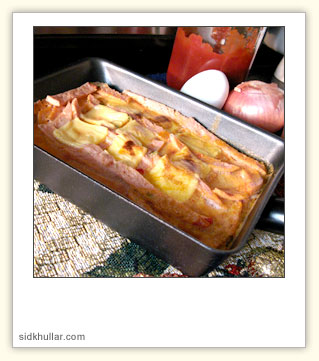 Ingredients
Eggs

5

Chopped cabbage

1 Cup (16 tbs)

Cheese slice

1

Onion

1 Small

, chopped

Cooking butter

1 Teaspoon
Nutrition Facts
Serving size
Calories 190 Calories from Fat 113
% Daily Value*
Total Fat 13 g19.4%
Saturated Fat 5.8 g29%
Trans Fat 0 g
Cholesterol 364.8 mg
Sodium 275.5 mg11.5%
Total Carbohydrates 7 g2.3%
Dietary Fiber 1.4 g5.8%
Sugars 3.9 g
Protein 13 g26.2%
Vitamin A 11.9% Vitamin C 23.2%
Calcium 12.4% Iron 9.7%
*Based on a 2000 Calorie diet
Directions
1. Beat the eggs well
2. Heat some butter in a pan. Reduce flame. Note that the pan should be a small one, else the shape will not turn out right.
3. Pour 1/3 of the egg mixture into the pan. Spread it across the base and let it firm.
4. Add the chopped onions and cabbage on to this. Cover and cook for 1 minute.
5. Put the rest of the egg mixture into the pan and spread.
6. Pop into the oven till the top is firm.
7. Top with salami and cheese as you prefer
8. Grill till the cheese melts and the omelette is firm.